DJI Osmo Action 3: All you Need to Know, Focus Issues, Performance & More
There has been a lot of talk in the town about the newest DJI Osmo Action 3, mainly because of the focus issue in many of the early production units. On paper, it is an excellent device with 4K capability, 120FPS, ergonomic and functional design, dual screen, and a great smartphone app.
But how does it perform in the real world, and whether the rumors about the issues are true or not?
Let's Inspect!
Summary
Pros
Supreme build quality
Great quick-release mounting bracket
Excellent daytime footage
Mobile app is great and comes with many templates, pre-sets, and options.
Easy to use with friendly user experience and software.
Wide field of view
Touch sensing front screen.
Cons
Soft video in some modes
OK low light and slow-motion video
No option to control the sharpness
Dynamic range is not good
DJI Osmo Action 3 – Price
DJI Osmo Action 3 starts at 329$; I have the basic variant that comes with a couple of handy mounts. The camera has an excellent price and beats the most popular action cameras like the Insta360 One RS and GoPro Hero 11.
DJI Osmo Action 3 – Unboxing
Unboxing, as always, has been great. DJI has the ability to make everything looks premium with its supreme packaging. It's rather nice with highlights and important information outside the box. Opening the box will take you to an interactive and valuable tutorial, making it relatively easier to learn, even for the first-timer.
The contents are well packed, and Osmo Action 3 has a protective film to ensure it gets no scratches during the delivery. There are quite a few things in the box, like the protective rubber ring, Osmo flat adhesive base, protective frame, quick-release adapter mount, DJI stickers, Type-C to Type-C PD cable, and locking screw.
Appearance and Build Quality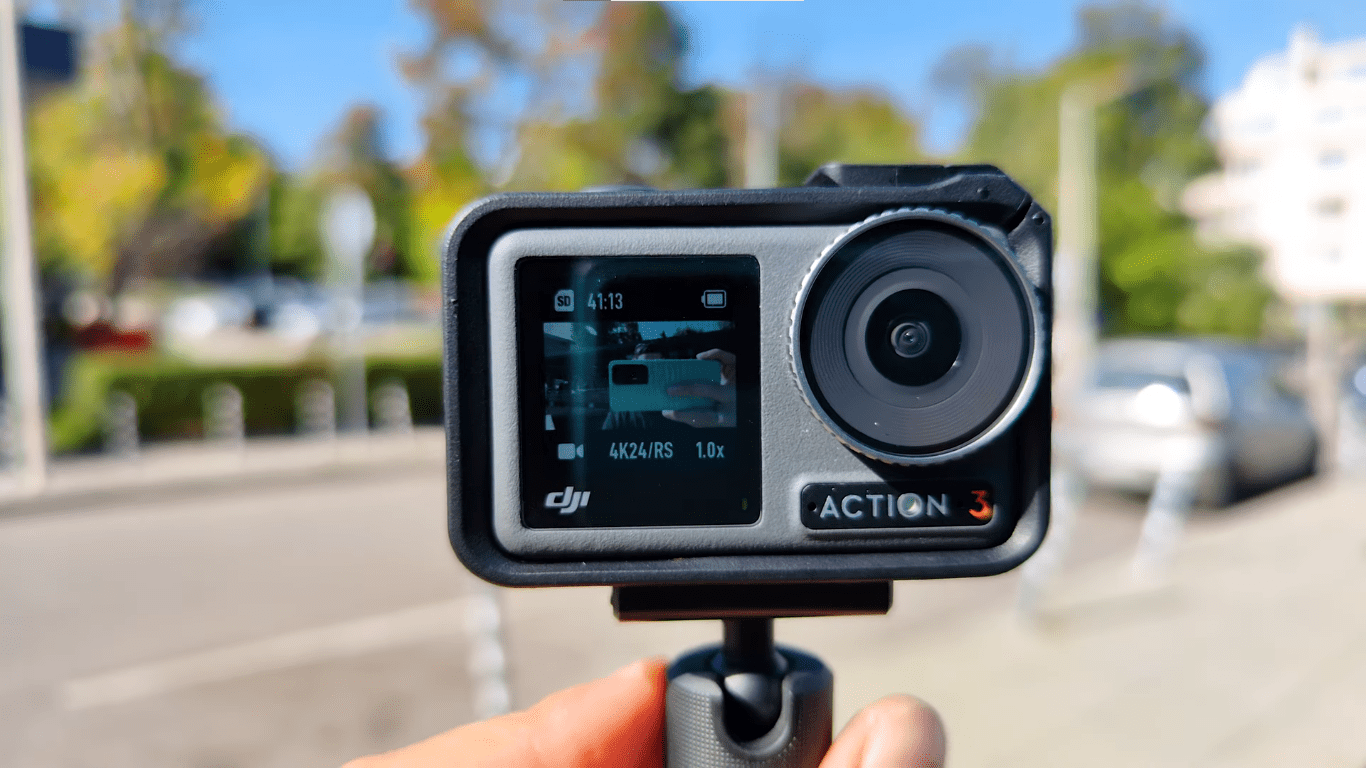 Osmo Action 3 is a beautiful camera. DJI has decided to go for the GoPro-like design after experimenting with a unique design in the previous generation. It's great that DJI has chosen the excellent design, as it is way more practical and easier to use than the Osmo Action 2. It has screens on both sides; both are touch-enabled and work perfectly well.
In terms of build quality, like every action camera, it's also made out of strong plastic and has an interesting texture. It feels great in hand and has a replaceable lens and waterproof body, adding significant value.
The best part of the camera is its quick-release mount. It is so handy and efficient that I want it to become the standard mount in every camera.
Lastly, the ports and power button are on the left side, with the shutter button on top. Another great addition to the box is the protective frame. The frame has a mounting bracket on the right side of the camera, allowing you to conveniently use the camera in vertical orientation.
Technical Specifications
Image Sensor: 1/1.7-inch 12MP CMOS Sensor with a 155° field of view and f/2.8 aperture lens
Resolution: Video quality up to 4K 120FPS
Chipset: Ambarella SoC (Unconfirmed)
Battery: 1770mAh battery
Display: 2.25-inch rear and 1.4-inch front display
Smartphone App: DJI MIMIO
Weight: 145 grams
DJI Osmo Action 3 – Performance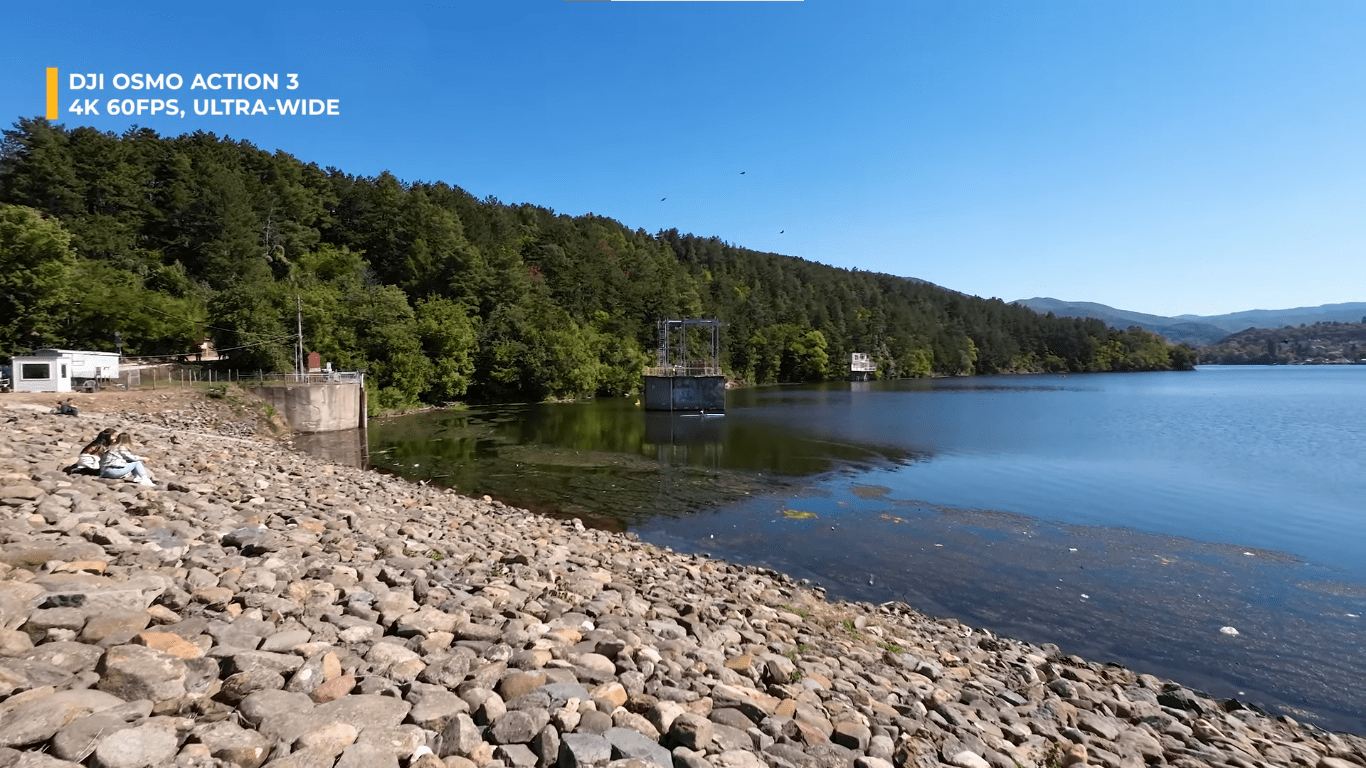 DJI Osmo Action 3 has a solid lens 12MP SMOS sensor that might be IMX 686 or similar, hiding under the 155° lens with f/2/28 aperture. These are some solid specs, and you can expect good footage. It is capable of shooting 4K 120FPS, which is not as good as GoPro Hero 11 as it can shoot 5.7K and 240FPS but still has pretty solid specs to start with. To process all the footage, DJI has used an Ambarella chipset. It is unconfirmed as DJI has not provided much information about the parts.
Let's discuss the footage.
Daytime footage looks exceptional. It is very smooth thanks to its rocksteady EIS that makes gimbals useless. Moreover, it has a D-Cinelike color mode that makes the colors look great and leave a lot of room for post-production color grading. In the widest mode, the image is a little too soft around the corners, which I personally don't like much.
Another issue well-versed in many reviews is the "Focus Issue." Yes, the video shot with DJI Osmo Action 3 is soft, but I don't think it's the focus issue. I feel like it's more due to the image sensor and processing.
DJI Action 3 struggles a bit in low light. Most action cameras do, but there are too many defects here. They can be reduced through a special trigger in the menu, but still, I hoped for much better video quality.
Another area where DJI Action 3 struggles is slow motion. Reaching 120FPS is an excellent achievement, but the competitor is way ahead. In Slo-Mo, GoPro Hero 11 can record in 2.7K at 240FPS, which is significantly better. Osmo Action 3 has a nice slow motion, but a lower refresh rate significantly affects the dynamic range.
Another thing I like about the action camera is the vertical mode. It is a blessing for Instagram and Tik Tok content creators. Moreover, with its unique case and mounting bracket design, shooting videos has become very straightforward.
MIMO App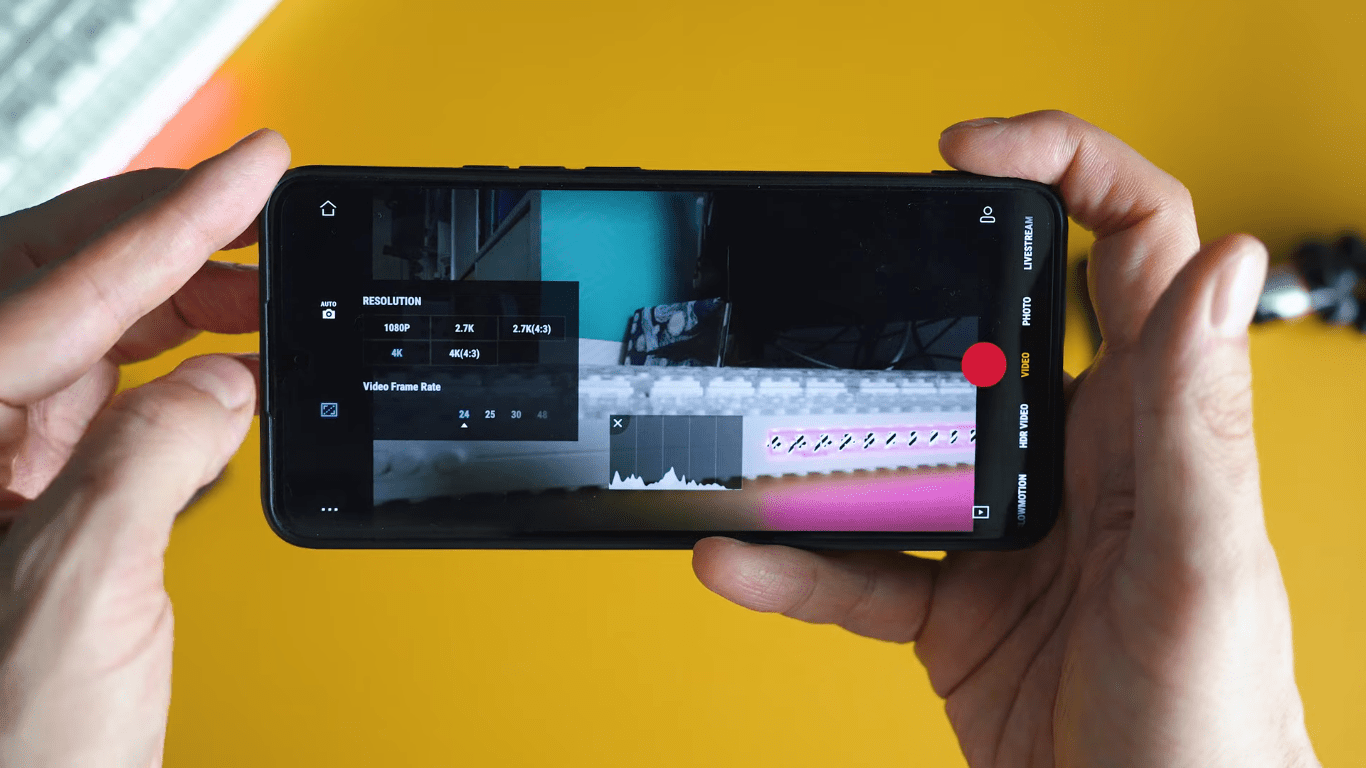 DJI has continued to provide an excellent software side. The DJI MIMO app is exceptional and is a perfect place for TikTokers and Instagramers. It has tons of templates, presets, and editing options to quickly create a perfect video. Moreover, sharing video between camera and mobile is also pretty easy.
Drawbacks
No sharpness control in the menu
Image appears soft in FOV mode
Some reservations about the dynamic range
No option for cloud storage
Suboptimal bracket
Verdict
Overall DJI Action 3 is a very good action camera. It might be the best one at 350$ with many professional-grade features. Moreover, it even exceeds the expectation in terms of build quality, excellent quick-release bracket, smartphone app, menus, and user experience. But it needs significant improvement in the video quality department. There are many flaws, like the low-light image and slow-motion videos.