Amazfit Bip 5 Review: The End of an Era?
Amazfit Bip 5 is the fifth edition of the popular budget series. It costs less than $ 100, but its functions and features are extraordinary. Just to give you a sneak peek, the smartwatch has a speaker and microphone to make phone calls, a capable smartphone app, GPS, and tons of health-tracking features.
Is it still the same fantastic Amazfit Bip smartwatch with excellent battery life?
Let's Inspect!
Here is the thorough inspection of Amazfit Bip 5, covering all the positives and negatives to help you make a better purchase decision.
Summary
Pros
Precise fitness tracking
Affordable pricing
Speaker and Microphone to make phone calls and use Alexa
Third-party apps integration
Cons
Alexa is limited to some regions
No external Bluetooth supports
Internal storage is not accessible.
Amazfit Bip 5 – Price
The smartwatch's price is 89$, which is 25% more than Amazfit Bip 3's Pro model. But I still think the price is great, considering a two-year gap and 2023 economic conditions. Bip 5 is still an incredibly affordable smartwatch that undercuts the GTS and GTR series.
Amazfit Bip 5 – Unboxing
Amazfit has changed the packaging for good. Although it's still very basic, it's nice to see that they have gotten rid of the fitness band-like box we have seen in previous generations. The smartwatch is well-packed. In the box, we also have the charging plate and instruction manual. The charging plate may look like one we get with other Amazfit devices. But it is different and does not fit them.
Appearance and Build Quality
Amazfit Bip 5 has a boxy design; it feels alright in hand and does not have a premium feel to it, which is fine considering the price tag. On the front, we have the 1.91-inch TFT screen with thick bezels. The frame is made of plastic, and the sensor cluster is on the bottom. It also has a button for controls. Overall, the design has nothing special, and the build quality is good enough to get the job done.
Technical Specifications
OS: Zepp OS 2.0
Display: 1.91-inch, 320×380, tampered glass with anti-fingerprint coating
Body: Plastic frame and Silicone Strap
Weight: 26 Grams
Sensors: BioTracker PPG Biometric Sensor, 3-axis acceleration sensor, GPS,
Battery: 300mAh
Connectivity: Bluetooth 5.2 BLE
Speaker and Microphone: Yes
Water Resistance: IP68
App: Zepp
Amazfit Bip 5 – Features
Amazfit Bip 5 is a unique generation as it has lost some features, but new additions are even more useful. The first upgrade is the speaker and microphone. It makes the smartwatch able to receive and make phone calls. Moreover, it also has Alexa, but the feature is supported in only a few countries.
Despite being a super affordable smartwatch, Amazfit Bip 5 can also integrate essential third-party apps, including Google Fit, Addidas, and Strava. It is an excellent feature for athletes looking to gather a lot of data.
The smartwatch can also read and respond to notifications with predefined messages. Many mid-range smartphones don't have the feature, but Amazfit has integrated the feature quite nicely.
In addition, you will also find many productivity apps like calendar, stopwatch, countdown, timer, and many more. You can also add more mini-apps from the Zepp smartphone app.
Amazfit Bip 5 – Fitness Tracking
Amazfit Bip 5 is a very capable smartwatch. It has excellent fitness tracking and nicely covers all the modes and features. All the tracking, including HR, SpO2, steps, sports modes, etc., is very precise. The smartwatch also has PAI (personal activity indicator). A basic training coach that motivates you to do better. The sleep recording is also exceptional. The basic smartwatch shows better results than the much more expensive Amazfit Cheetah. REM, awake time, deep sleep, and light sleep are measured precisely.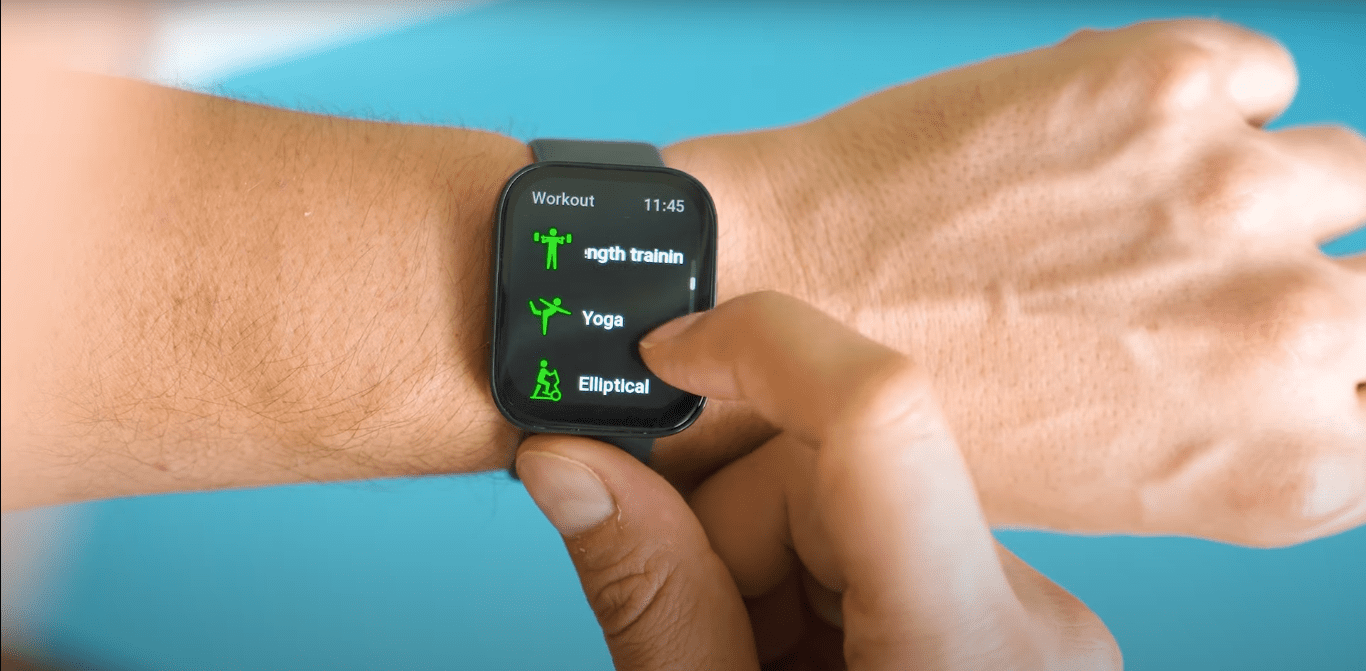 I was also astonished by the amount of data the sensors fetch. And everything gets well implemented in the Zepp smartphone app. If you are thinking about sports modes, the Bip 5 is in a league of its own. It has 124 workouts.
The smartwatch also has GPS. The accuracy is satisfactory and reliable, but the signal locking is a little slow and takes a few seconds.
Battery Endurance
Amazfit Bip 5 has a solid 300mAh battery lasting 5 to 25 days. With all the health tracking and features on, you will get five days. Well-balanced and light usage will take the battery to 10 days. You can extend the battery endurance to 25 days by reducing HR Tracking and other fitness features.
The watch is not as good as previous generations' two months battery life, but still, it has excellent numbers considering the smartwatch's features.
Zepp App
Zepp smartphone app adds significant value to Amazfit Bip 5. It makes the watch look good with a wide library of watch faces. The app makes your smartwatch more productive by offering a variety of third-party apps and makes it functional by presenting all the fetched data in a user-friendly way. It has detailed charts and figures to help you get better. Moreover, integration with apps like Strava, Google Fit, and Addidas makes it even better.
Drawbacks
Non-AMOLED screen
Internal storage is not accessible
Does not support external Bluetooth devices
Alexa is limited to certain regions
No barometer and gyroscope
Conclusion
Amazfit Bip 5 is no longer what it used to be, the transflective screen and 2-month battery life are dead, on top the watch is also slightly expensive. But still, if you are a fan of old Bip generations or looking for an Amazfit GTS 4 Mini alternative, the smartwatch is a perfect product.
If you are looking to learn more about the smartwatch, tune in to our YouTube video now.