To put things into perspective, we're noting that the global Xiaomi Mi Watch Lite comes just 3 months after the latest Mi Band and already surpasses it by quite a lot.
It offers a two times bigger display, an increased number of features, a built-in GPS, a new MI watch interface, and a brand new smartphone app.

Short Overview
For around $50 you're getting a lot of fitness tracking and only the basics of a smartwatch. If you're willing to pass on the AMOLED screen, haptic feedback, and fancy UI, the Mi Watch Lite is a great alternative to the much more expensive Mi Watch. Definitely, a wearable device to consider.
Pros:
A great bang for your buck
Large rectangular display
Impressive ambient light sensor
Long-lasting battery life
Accurate HR monitoring
Cons:
No always-on display mode.
No infinite scrolling.
No microphone and speaker.
Weak peak brightness.
No Strava integration (yet).
No support for external Bluetooth devices.
No SpO2 tracking.
First Impressions
It's pretty obvious Xiaomi is setting the bar high in 2021. We expect the Mi Watch Lite to be a fierce contender in the best fitness trackers/smartwatches of the year, right next to other budget devices like Honor Band 6, Amazfit GTS 2, Redmi Watch, Huawei Watch Fit, and so on.
We can't deny Xiaomi has finally delivered a good fitness tracker (and basic smartwatch) for less than $50 with a GPS included.
In fact, one of the few similar devices we can recall is the Huawei Band 4 Pro which is already been on the market for a year and costs about the same amount of money.

Unboxing & Appearance
The Xiaomi Mi Watch Lite comes in three variations—black, pine green, and cherry pink. The original packaging is compact, nothing too fancy. Inside we find the user guide, a charger, and the watch itself.
Xiaomi has apparently prioritized travel safety, as the Mi Watch Lite is well-wrapped in protective foil. Maybe too well wrapped not that we think about how much time it took us to reveal what's inside.
At a first glance, the watch doesn't leave a cheap impression. The Mi Watch Lite features a plastic build, but definitely not a plasticky feel to it. The straps are rubbery and remind us of the Mi Band, but feel soft to the touch.
The display is rectangular similar to the Apple Watch, and although customers would like to see more independent decisions design-wise, we feel this form factor offers a lot of advantages and comfort in the overall experience.

Tech Specifications
As always, we've compiled the specs to please your nerdy side. Take a look under the hood of the Xiaomi Mi Watch Lite:
1.4-inch TFT LCD display
230mAh battery (around 9 days with typical usage)
Built-in GPS
IP rating: 5ATM
Ambient sensor for auto-brightness
Features PPG and HR sensors
TPU replaceable strap included
Features both compass and altimeter
Weighs 35g
Given the price point, it's unrealistic to expect a lot more. Features like a microphone, speakers, support for Bluetooth devices, or chest HR tracker are out of the scope, but that doesn't make what's already included less impressive.
What you need to know before strapping on the Xiaomi Mi Watch Lite

Start off by charging the battery fully, this should take about an hour. We were impressed how the integrated sensors let us use the Mi Watch Lite as a desktop watch also. 
There's not much additional preparation you'll need, other than knowing the single button on the side acts as a home button. Which, to be honest, is quite intuitive. We couldn't find a way to configure the long press behavior, as it is doing nothing by default. Hopefully, we'll see it enabled after some of the future firmware updates.
The whole watch is operated via swiping on the touchscreen. Because of the weak hardware, Xiaomi has decided to entirely disable all haptic feedback. Animations, vibrations, and additional signaling of successful motions are missing entirely. We remember seeing a similar approach with the Amazfit Bip series, but once we got used to the Mi Watch Lite, we weren't bothered at all.

User Experience & Actions Rundown
Just like its bigger sibling—the Mi Watch—the UI is set to icons only, instead of the usual icons and text layout. It was a bit annoying at the start, but the fact that all 18 apps fit within two screens and are just one swipe away quickly made the experience effortless.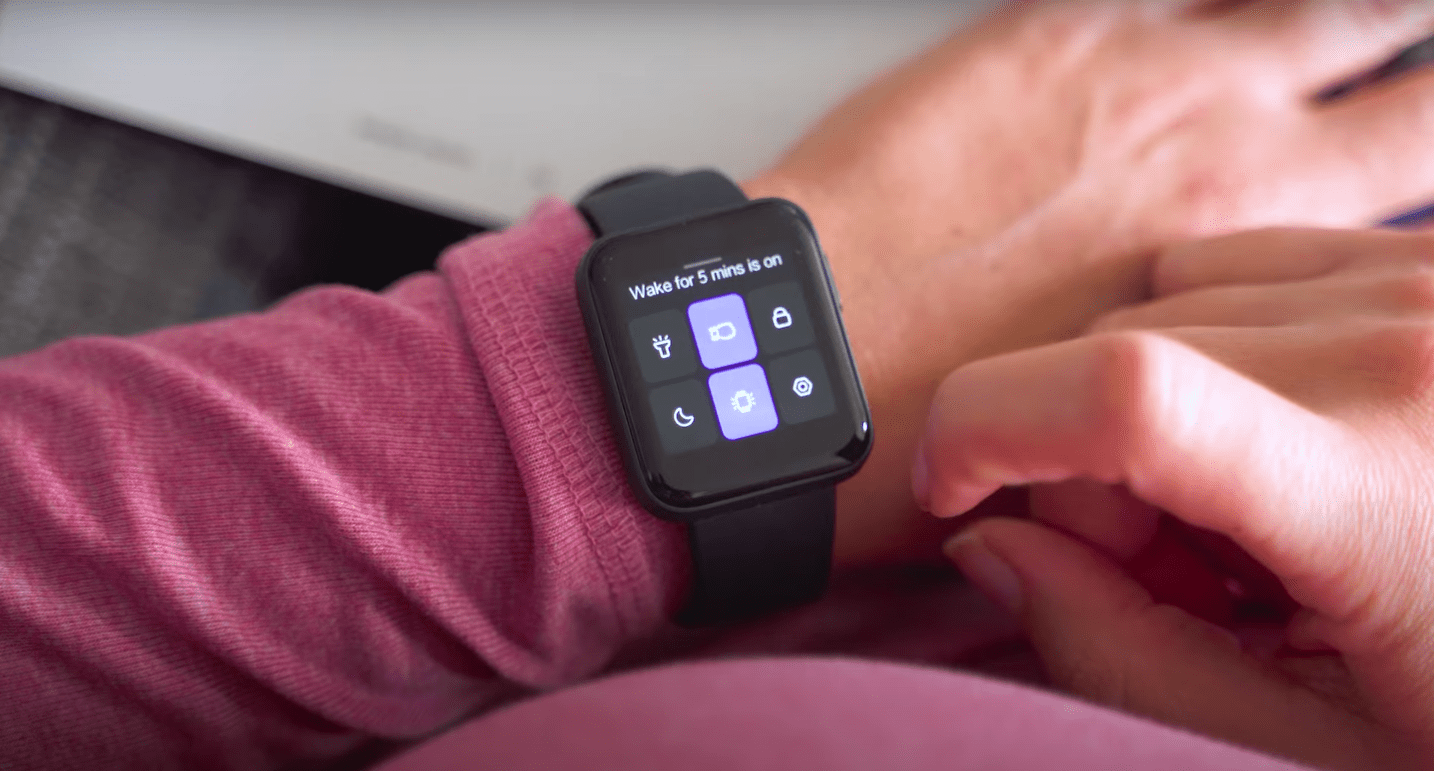 You've got quick access to a few things. Swipe up for the torch, the raise to wake on/off, lock option, DNB, and a 5-minute screen on enabler (similar to what Huawei and Honor wearables offer).
Scroll down to check your notifications. If you're a multitasker at heart you'll be disappointed at not being able to respond or set predefined answers to notifications, but at least reading is possible. Another drawback is the lack of preview of photos you've received.
HR Monitoring
The HR measuring app runs smoothly and shows accurate results. You can configure the Mi Watch Lite to track HR 24/7 and specify how often you'd like the measurements done. The shortest span is every 60 seconds which drains the battery a lot quicker than usual. 
Sleep Tracking
We got mostly accurate results. The Mi Watch Lite noted down exact times of falling asleep and waking up. What it lacks though is recognizing unconventional sleep patterns and temporary waking periods.

Additional Notes
Overall, we never really got over the scarcity of the system settings options. The lack of button customization, no option for display timeout duration, etc. This left us wishing for future add-ons.
Kudos to the developers for the efficient ambient light sensor which enhances the longevity of your battery.
You can of course set it manually to a preferred mode, or opt in for the automatic settings. What that does is automatic brightness increase/decrease depending on whether or not you're indoors or outside.
The New Xiaomi Wear App
Used in the regular Mi Watch as well, the Wear App features a user-friendly interface and easy navigation. While it does cover all the basics, it does suffer from the same variety-lacking menu. Compared to the feature-rich smartphone apps Mi Fit and Zepp, Xiaomi has a lot to catch up on.
For now, fitness tracking is satisfactory. The Wear app offers detailed statistics about workouts and accurately measures your day-to-day activity. You'll benefit from the multiple sports options, albeit not as many as in the non-lite version.
Right now, we will pass on recommending it to athletes, as there's still no integration with Strava or similar, but let's hope to witness its arrival eventually.
Final Verdict
If you're looking for a brand new Xiaomi wearable to add to your collection, for around $50 you're getting a well-performing all-rounder. All the basic features a fitness tracker and a smartwatch would offer are integrated and ready to go. Consider the aforementioned drawbacks and whether or not they fit your lifestyle to avoid any unpleasant surprises.
Product links:
Mi Watch Lite Smartwatch: https://geni.us/MiWatchLite​
Xiaomi Mi Watch: https://geni.us/MiWatch​
Huawei Watch GT2 Pro: https://geni.us/GT2pro
***There is no additional cost to your purchase when using the affiliate links provided above. Tech4All might receive a minor percentage out of it.