Mibro Watch GS Review: GPS, AOD & Health Tracking in a Budget Smartwatch
Mibro Watch GS is an astonishing device due to its exceptional price and stunning features. It has in-built GPS, AMOLED display, health tracking, strong and beautiful body at a fraction of the price of most smartwatches. The year was quite challenging for technology as everything got more and more expensive. Then, in the end, Mibro came up with this.
So, here is a comprehensive review of this crazy affordable smartwatch.
Let's Inspect!
Summary
Pros
Super affordable
Strong build quality and beautiful design
Crisp and bright screen
70 sports modes
Stunning battery life
Ability to receive notifications
Handful of productivity apps
Cons
Limited Sports data
No speaker and microphone
Basic UI and features
Main cards do not have a lot of information
Some reservations about the smartphone app
Mibro Watch GS – Price
Mibro Watch GS has a price of 85$. But its launch was near the Black Friday Sale so at that time Mibro was selling it for just 56$. Still, 85 bucks are very cheap, and none of the competitors are anywhere close to this excellent price. Mibro Watch GS is compared to the like of Huawei Watch GT Series, Honor GS, and Amazfit GTR devices.
Mibro Watch GS – Unboxing
Unboxing is pleasant. It does not feel premium but definitely is a considerable improvement over the packaging of the previous smartwatch. This show Mibro is trying to develop a good reputation among customers.
Overall, the sports watch is well-packed and comes with a standard charger and some paper.
Appearance and Build Quality
The watch looks quite lovely at first sight. Most of it is made out of plastic, but the whole case feels rugged and robust. It has two buttons on the right side; one is the home, and the other is configurable by default it opens sports modes. The Watch GS is a strong smartwatch, although I am a bit concerned about the lugs. They are made of solid plastic, but this section takes the most beating.
The rest of the things are identical to every smartwatch. Like the metal buckle, sensors cluster at the bottom, glass screen, and a comfortable silicon strap.
Technical Specifications
Processor: Dual-Core Chipset
Screen: 1.43-inch AMOLED HD Display with 466 x 466 resolution
Weight: 56 grams
Battery: 460mAh
Sensors: PPG Heart Rate Sensor, Accelerometer, and SpO2 Sensor
Connectivity: Bluetooth V5.1
GPS: Yes, supporting all the popular positioning services, including GLONASS, QZSS, BEIDOU
Waterproof: 5ATM
Smartphone App: Mibro Fit
Mibro Watch GS – Features
The specs are great but don't take your expectation high. Mibro Watch GS is a budget smartwatch and has a very basic OS. It does not have high-end smart features, but some valuable components add significant value to the Mibro GS Watch.
The first one is the productivity apps. As you scroll down the menus, you will find tons of apps like stopwatch, timer, alarm, weather, compass, and calculator. It does have a calendar which can be far more useful if it can be connected to the smartphone.
Notifications are well implemented. They are well-visible, and you can respond with pre-defined replies. Having the ability to write complete messages would have been great, but it's still an excellent inclusion in a smartwatch with a very basic OS. The replying feature is not yet available, but Mibro might add it in the next update.
Mibro Watch GS can also control music. It will show whatever your phone is running, and you can playback, forward, and pause the songs. The watch also similarly controls the music if played through streaming services like Spotify and YouTube Music.
Another thing that I absolutely love is the screen. Mibro Watch GS has an HD AMOLED screen with excellent resolution. It is bright, vivid, and very well visible on sunny days. Moreover, with higher resolution, it can accommodate more text clearly.
Controlling the screen is also straightforward. The home button takes you to the main menu, while the second is customizable. The rest of the controls are done by swiping and clicking. Moreover, with a 60hz refresh rate, everything feels very smooth. There is no stuttering and lagging.
Fitness Tracking
Mibro Watch GS is good at fitness tracking. It monitors our health in a real-time and presents us with health analysis results. Overall, the results are good, but the apps on the watch are fundamental. The HR tracking app has a minimal amount of information. Similarly, SpO2 tracking app looks primitive, and the same is the case with sleep tracking and stress tracking. We have to keep our hopes for the smartphone app that it can compensate for the less information.
Besides that, it has over 70 sports modes, including rock climbing, canoeing, running, cycling, and much more.
Battery Endurance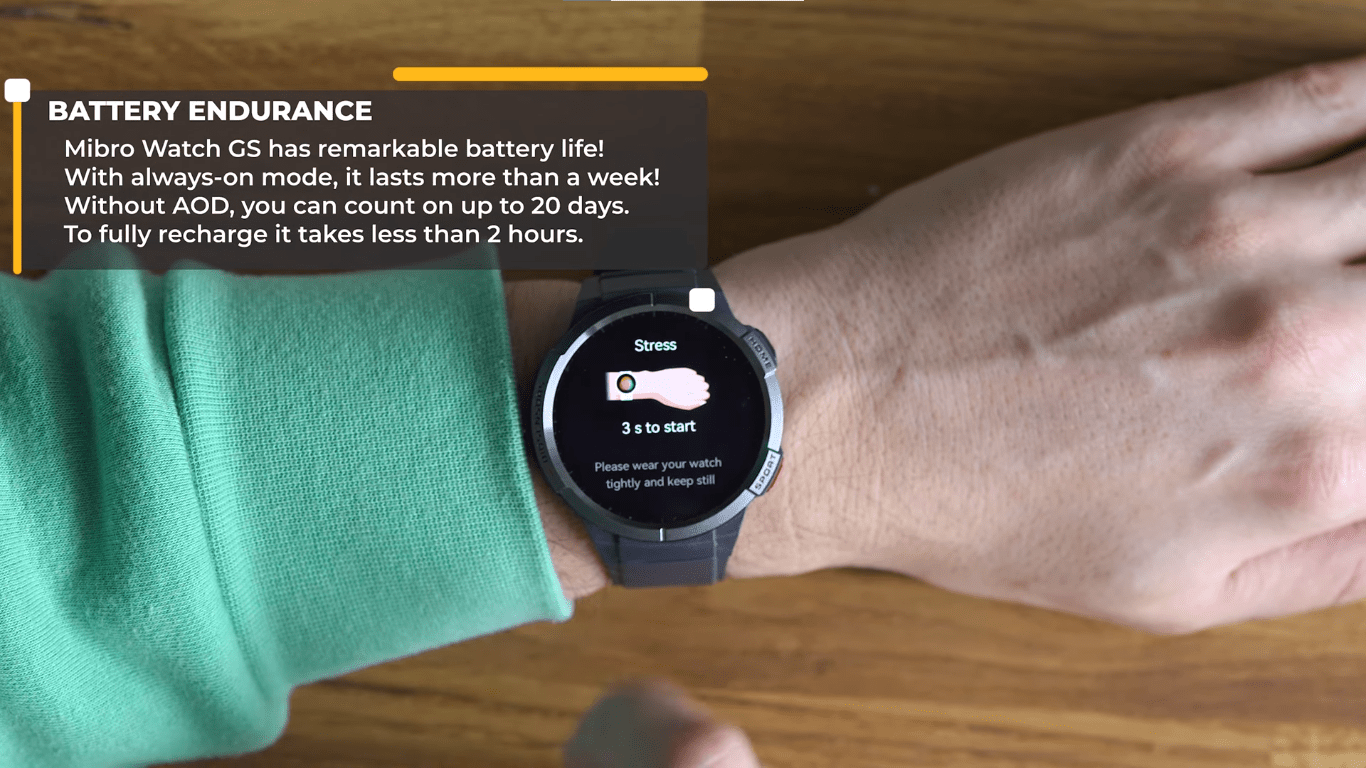 Mibro Watch GS has a big 460mAh battery. The endurance of this smartwatch is excellent; it can easily work for around ten days with a few workouts and always on display. When you turn off the AOD, the battery life goes as high as 20 days. It is remarkable, considering the watch only takes 2 hours to get charged.
Mibro Fit App
Mibro Fit is the official app of Mibro smartwatches and fitness trackers. After watching the poor implementation of tracking apps in the smartwatch, we have very high expectations from this app. But the results are not very compelling.
In the sleep monitoring chart, there is no information about REM which is an essential component of sleep tracking. Similarly, the information about HR tracking and sports detail is also very minimal. There is not even a map of tracked GPS data.
Mibro may upgrade the app soon, but after one month of the launch, things are still similar.
Couple of things I want to mention about the app is that it always needs location information to connect the watch to a smartphone. It is a little annoying and uses some extra battery. Moreover, you have to sync the data daily with your smartphone strictly. If failed to sync, the watch will remove all the previous data, and you will start from zero again. It is pretty bad as Mi Band 4 can handle data in a better way than the Mibro Watch GS.
Drawbacks
Main information cards are not detailed
No REM in sleep tracking
Lack of ambient light sensor
No NFC for cashless payment
Very limited sports data
Verdict
Mibro Watch GS shows that the company is moving in the right direction but is not quite there yet. So, if you want a rugged, strong body, fantastic screen, and great battery life, go for Mibro Watch GS. But if you are looking for features, performance, and a friendly UI, then it's not the watch for you.
Head to our YouTube channel to learn more about the super affordable smartwatch.