Beelink SER5 Review: AMD Ryzen 5 Mini PC on a Budget
Mini PCs are excellent devices; they pack the power of an average computer in almost 3- or 4-times smaller size. Many manufacturers like Dell and Hp have their takes on exceptional mini-PCs, but they are expensive and do not provide value for money. Beelink SER5 is the latest generation of mini-PC from the Chinese company. It is an AMD-powered device running the latest Windows 11 Pro.
It has a lot to offer, so sit back and read the thorough review to understand everything about the Beelink SER5.
Let's Inspect!
Summary
Pros
Incredible pricing
Upgradable hardware
Efficient and high-performing processor
Beautiful and sturdy design
Solid heat dissipation
Wi-Fi 6 and Ethernet port for ideal internet connection
Ample ports selection
Cons
Mid-range GPU performance
No DDR 5 support
Does not have a thunderbolt port
Beelink SER 5 – Price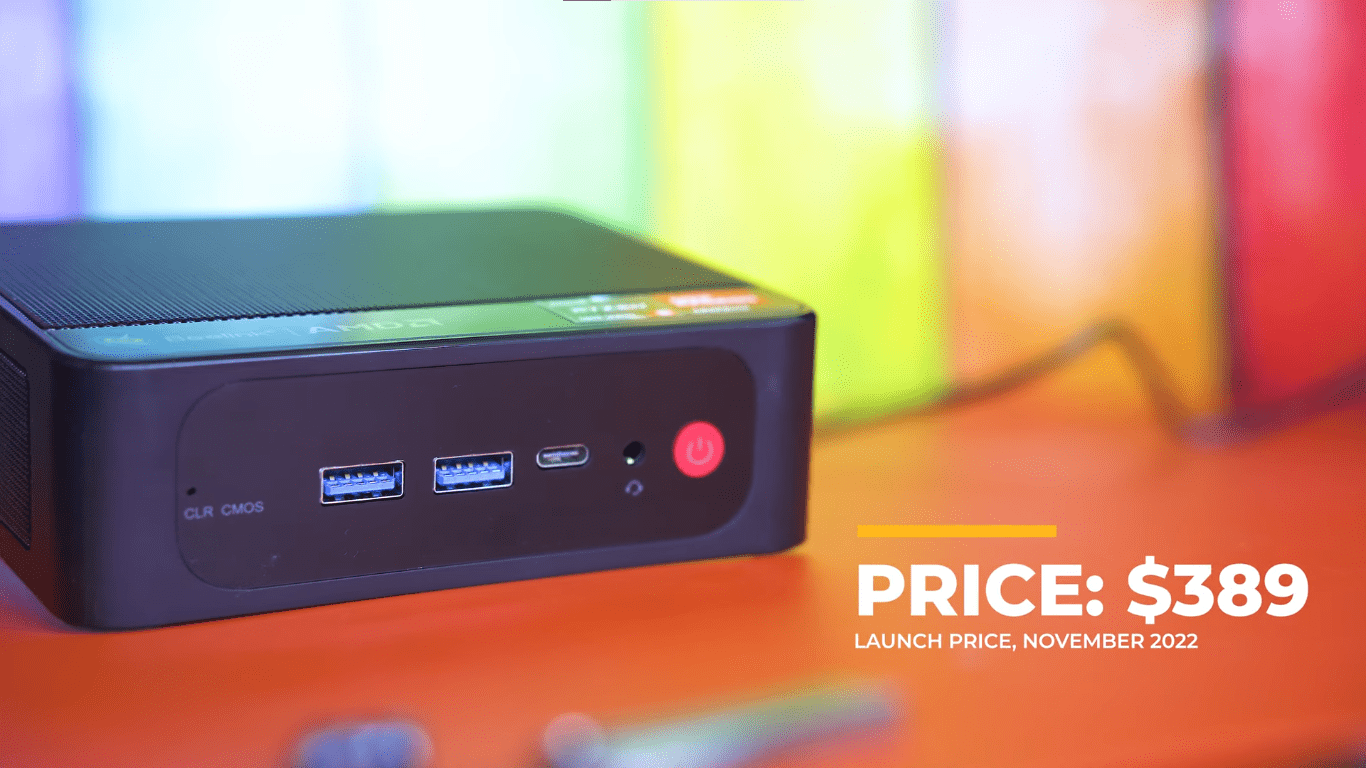 Beelink offers tons of variations, from high-end Intel and AMD CPUs to mid-range CPUs of both companies. I have got the AMD Ryzen 5 5560U with 16GB RAM and 500GB storage at 389$. Beelink is offering excellent price, making it quite hard to beat.
Beelink SER 5 – Unboxing
Unboxing is nice. It has a big SER printed on the front with some highlights and useful information on the other sides of the box. The box design shows gaming-oriented characteristics, which kind of raises expectations.
Inside the sleeve, we have the two main boxes box holding the main computer with a user manual, installation guide, wall mounting bracket, HDMI cable, and a power adapter. All the contents are securely packed.
Insides and Outsides
The computer looks great at first sight. Beelink has taken a similar approach to the design. It seems like they are establishing a brand identity which is quite nice. The body has both plastic and metal construction and has open slots and mesh to ensure optimal airflow.
The insides are great. Unlike most mini-PCs, it's effortless to access; just unscrew the screws on the bottom, and you will have access to the main motherboard. Access to CPS is a little tricky as it is on the other side of the main board, but you can see your RAMs, SSD, and HDD slot. The astonishing thing is that it can fit a full-size HDD inside the computer. As we can see, it is a very small device, but flipping the bottom cover will reveal the HDD jacket. It is connected via a SATA interface, so SATA throughput performance limitations exist.
The outside also feels very sturdy and beautiful. On top, we have the mesh with a couple of stickers and a few air vents on the back of the main body. Along with the vent, the back side also has two full-size HDMI ports, two type-A ports, an ethernet port, and a power connection. On the front, we have the rest of the ports, which include 2 USB Type-A, a Type-C port, a 3.5mm jack, and a power button. On the bottom, there is also a sticker mentioning the short keys for BIOS and Boot options.
Technical Specifications
Processor: 6 cores AMD Ryzen 5 5560u with clock 2.3GHz-4.0GHz and 3MB cache with integrated GPU
RAM: Sodimm DDR4 16GB 3200MHz RAM
Storage: 500GB NVMe M.2 SSD
Connectivity: Wi-Fi 6E wireless connection, Bluetooth 5.2, and Gbit LAN connection
OS: Windows 11 Pro
Ports: 4 USB Type-A, 1 USB Type-C, 1 3.5mm headphone jack, 2 full-size HDMI ports,
Weight: 445 grams
Beelink SER 5 – Performance
Before talking about the performance, let's learn what this small beast holds. Firstly, it has a 6-core, 12-threads Ryzen 5 5560U CPU. It is a mobile processor usually used in laptops. It is an excellent choice because of two reasons. Firstly, it does not get extremely hot and secondly packs exceptional computing power inside. Moreover, the processor also has good AMD Vega 6 integrated graphics with 2GB of VRAM.
The RAM sticks are also Sodimm which is also popularly used in laptops. Beelink SER5 has two sticks of Crucial 8GB 3200MHz RAM and can be upgraded up to 32GB.
Beelink has chosen to go with Kingston for SSD. It has a Kingston 512GB NVMe M.2 SSD. The storage choice is excellent; instead of a 3.5-inch SSD, they have gone with a faster and more efficient M.2 SSD.
As mentioned, Beelink SER5 does not have a dedicated graphics card. So, most of the high-end games are not playable. In contrast, most low and mid-range games work pretty well. Games like CSGO and League of Legends have stable frame rates of 60 to 75 FPS. And competitive AAA games like Call of Duty, Battlefield V, and Apex Legends are capped at 40FPS. Mobile games like Asphalt, Beach Buggy and PUBG also run smoothly.
The little guy can run two 4K 60FPS displays simultaneously. Every kind of video runs smoothly. Moreover, it also supports all the codecs supported by the CPU hardware.
Connectivity-wise, it is exceptional. It supports the latest and fastest Wi-Fi 6 and has a handy ethernet port for wired connection. Beelink SER5 also has Bluetooth 5.2 to connect peripherals.
Another excellent feature of the mini-PC is the power consumption. In normal usage, the power consumption hardly goes over 35-watt. Moreover, the fan is very quiet and excellent at its job.
Upgradability and Reparability
As for upgrade and repairability, Beelink has made it relatively easier. Most of the components are easy to access by removing the bottom cover. Upon removal, you will see the RAM and SSD, which can be upgraded. The cover has an HDD tray for easy installation of extra storage. Beelink has also included a helpful HDD installation guide in the box.
Drawbacks
No DDR5 Support
No thunderbolt port
Mediocre GPU performance
No option to upgrade the storage on the website
Verdict
Overall, Beelink SER5 in this configuration has excellent CPU performance, fast storage, and ample RAM at a very reasonable price. It is perfect for office tasks, light photos, video editing, and gaming. There are no corners cut, good-quality components, exceptional power usage, and the latest Windows 11 Pro makes it worth the price.
Here is everything you need to know before getting a gaming PC
Here tune in to our YouTube channel to learn more about the Beelink SER5.