Considering the ever-growing popularity of "fast snaps" over at TikTok and Instagram, it comes as no surprise tech companies try and cater to vlog-centric digital creators.
Cue the smallest and most discreet 4K camera ever made—the Akaso Keychain.
If the name sounds familiar, it's indeed possible you've come across some of their well-executed affordable action cameras like the Akaso Brave 7 LE.  And, apparently, this capable tech creator is now preparing to launch an Indiegogo campaign because the splash-proof Keychain sample was sent over for detailed testing.
Short overview:
If you're looking to invest in an entourage-free shooting setup the Akaso Keychain might be worth further research.
PROS:
No image distortions whatsoever.
Acceptable shooting quality in daylight.
True 4K camera packed in a ridiculously small size.
Rich in-app editing.
CONS:
Relatively limited battery life.
Micro SD card not included.
Short battery life.
No night vision mode.
First impressions
At first glance, the Akaso Keychain is a reasonable competition to the Insta360 Go model. Considering its announced specs and accessories, the pricing of this mini vlog camera ($109) automatically disqualifies it from the "best budget action cameras" list. What's even more curious is that the brand plans to sell the camera at the whopping $169 which regrettably takes off the gloss.
Unboxing
The Akaso feather-weight camera comes in a compact box including accessories. Inside you find three main accessories—an adjustable plastic stand with a 1/4 inch thread (the stand, in fact, broke), a magnet-based clamp, and a rubber case (a silicon cover with a hook).
Charging cable and instructions are also attached but don't wave them off just yet. Without first reading the instructions carefully you're in for a few surprises. Later on, it became apparent that keeping the in-app user-manual close by is the smartest move with the Akaso Keychain camera.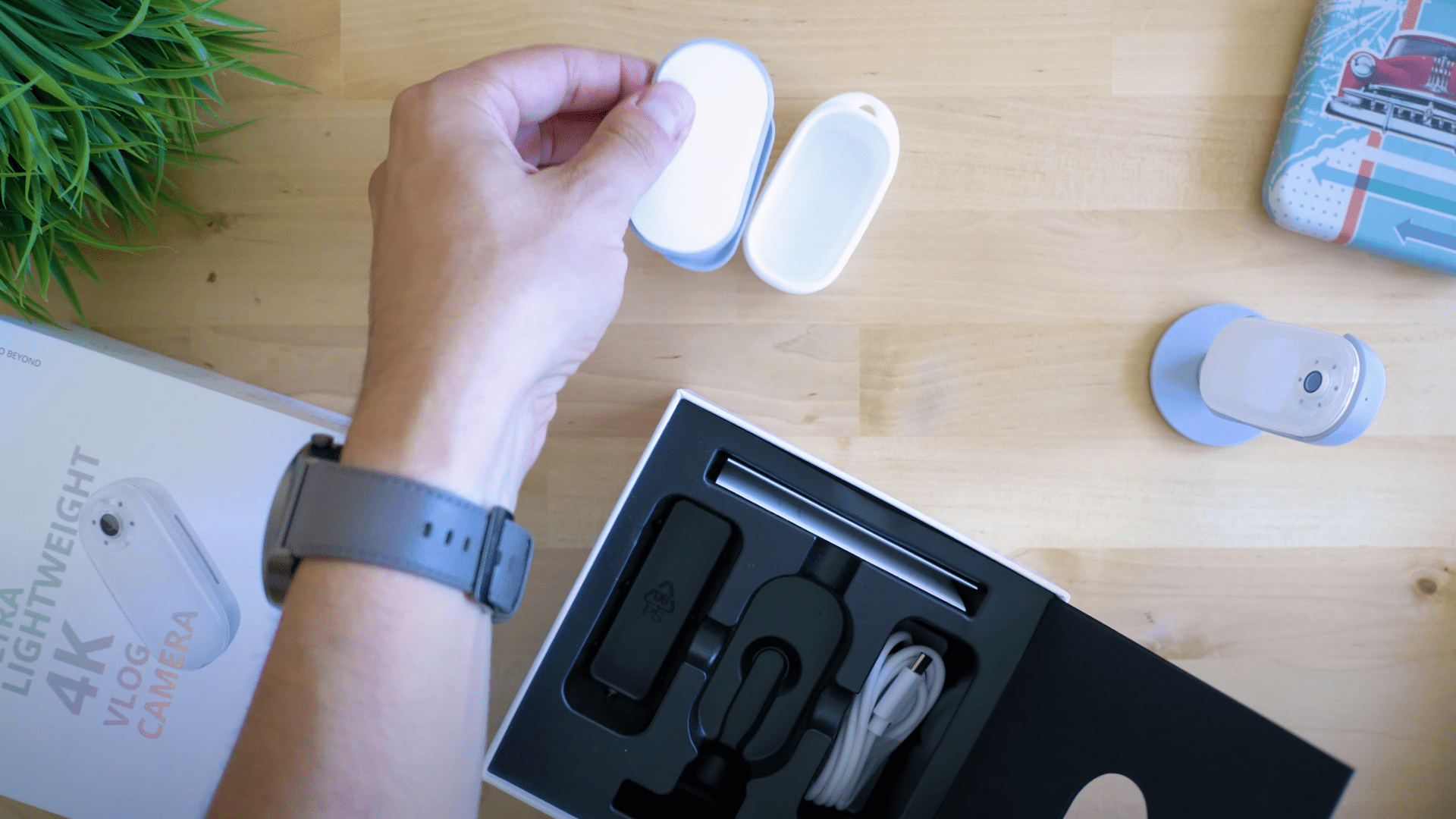 Unboxing the Akaso Keychain Mini Action Camera
Appearance
What doesn't add up is the clear discrepancy between the size of a regular keychain and the 63x33x18 mm Akaso mini camera. While tiny in size compared to other action cameras on the market, this gadget is definitely not small enough to carry around in your pocket comfortably.
When first clipping it on a T-shirt it sticks well, but when attempting the same with a more rugged fabric (like a hoody or a light jacket), the risk of losing your Akaso camera is quite high.
The Keychain's design features LEDs and two buttons on the side. The lens on the front is surrounded by these extra LEDs which will illuminate the objects at night. All and all, the design of the Akaso Keychain is inspired by the vlog culture and favors the vertical video format. And when thinking about it—no, it's not suitable to put on a drone.
Tech Specifications
The Akaso Keychain features:
Sunplus chipset.
Sony IMX 258 13mp image sensor.
A wide-angle 6p glass.
60-minute battery life.
Wi-Fi connection.
All that in only 36 grams of weight.
Most videos turned out quite grainy pointing to a mediocre image sensor which can't be categorized as improved technology. The same one is being used by many other action cameras and certain smartphone models from 3-4 years ago.
Processing power is just fine for the supported video recording resolutions. The Akaso Keychain is supposed to be a true 4K action camera, which at this tiny size counts as an achievement. We can only guess that Akaso's major focus market-wise is to beat the Insta360 Go, which was released a year ago. At that, they've been successful.
The two key features every reliable action camera offers are the replaceable battery and a display. Both are missing in the compact design of the Akaso Keychain. Moreover, there is no definite information about the discharge status which makes planning and shooting vlogs particularly difficult.
Handling
The button setup isn't necessarily complicated. There are the standard operations—power on/off, Wi-fi enable/disable, initiate shooting at the mode configured from the app, and LED lights on/off.
However, the Akaso Keychain camera features an overwhelming process just to switch between in-app modes and resolutions. In order to record slow-motion (which in the best scenario is Full HD at 60fps), you'd have to power on the camera, press the Wi-fi key combination, connect to the Wi-fi hotspot, open the app, and change to the desired mode.
The exact same process is repeated whenever you want to switch from photo to video and vice versa. More often than not, this means missing the perfect moment—the very one the Akaso Keychain claims to capture anytime, anywhere.
The video quality is acceptable in daylight and rather poor in low light and dark setting. The mini vlog camera offers weak to almost non-existent stabilization, which is a definite no-no for dance challenges on TikTok. Not that we've tried.
The white balance works properly, which in turn is sometimes ruined by the cartoonish feel of the recordings. Something you wouldn't expect from cameras in this price range.
"Kudos on the distortion-free picture! There's undeniable success in eliminating all typical distortions observed in wide-angle lenses."
But if there's one word to describe the overall experience with the Akaso Keychain camera, it's limiting. It does show some potential in certain scenarios—like strapped to a helmet or clipped to your shirt, but we fail to see what new it brings to the table where other action cameras offer way better quality.
Final Verdict
The Akaso Keychain 4K camera is not a well-functioning action camera and misses some key features in order to enter the "best cameras for vlogging" shortlist. It has no display, no replaceable battery, very limited shooting options without the app, a lack of user-friendly accessories, and questionable video quality.
Whether you're a beginner or a seasoned vlogger, the portable Keychain 4K camera shows serious reliability issues at capturing your highlight moments.
Product links:
Akaso Keychain 4K action Camera:  https://geni.us/Akaso-Keychain
Akaso V50X 4K Action Camera:  https://geni.us/pXBo
GoPro Hero 9 5K Action Camera:  https://geni.us/Hero-9
***There is no additional cost to your purchase when using the affiliate links provided above. Tech4All might receive a minor percentage out of it.