Smooth XS: An Excellent Selfie Stick and Gimbal for Smartphone
Did you know that Zhiyun is the world-renowned gimbal brand for cameras and smartphones? Now, they have come up with new ways to capture and create stories by introducing a new foldable smartphone gimbal Smooth XS.
I have always wanted the best for my readers, and I must say that you must get your hands on it. A question that might pop up in your head is that why would I get it? To answer this question, I am anticipated to share every detail of this absolute beauty with you.
Before we get to the list of the specific features, I would like to give you a brief about this device. Smooth XS is a nice foldable, 2-axis gimbal for smartphones. It's a composite of the selfie stick and gimbal.
Through this, users can film, capture moments in versatile modes, control zooming and gimbal modes with buttons. It is a lifestyle device for vloggers and social media enthusiasts. If you are one of them, this information is going to be beneficial for you.
Without wasting any further time, let's jump to the details.
Design and Color Collision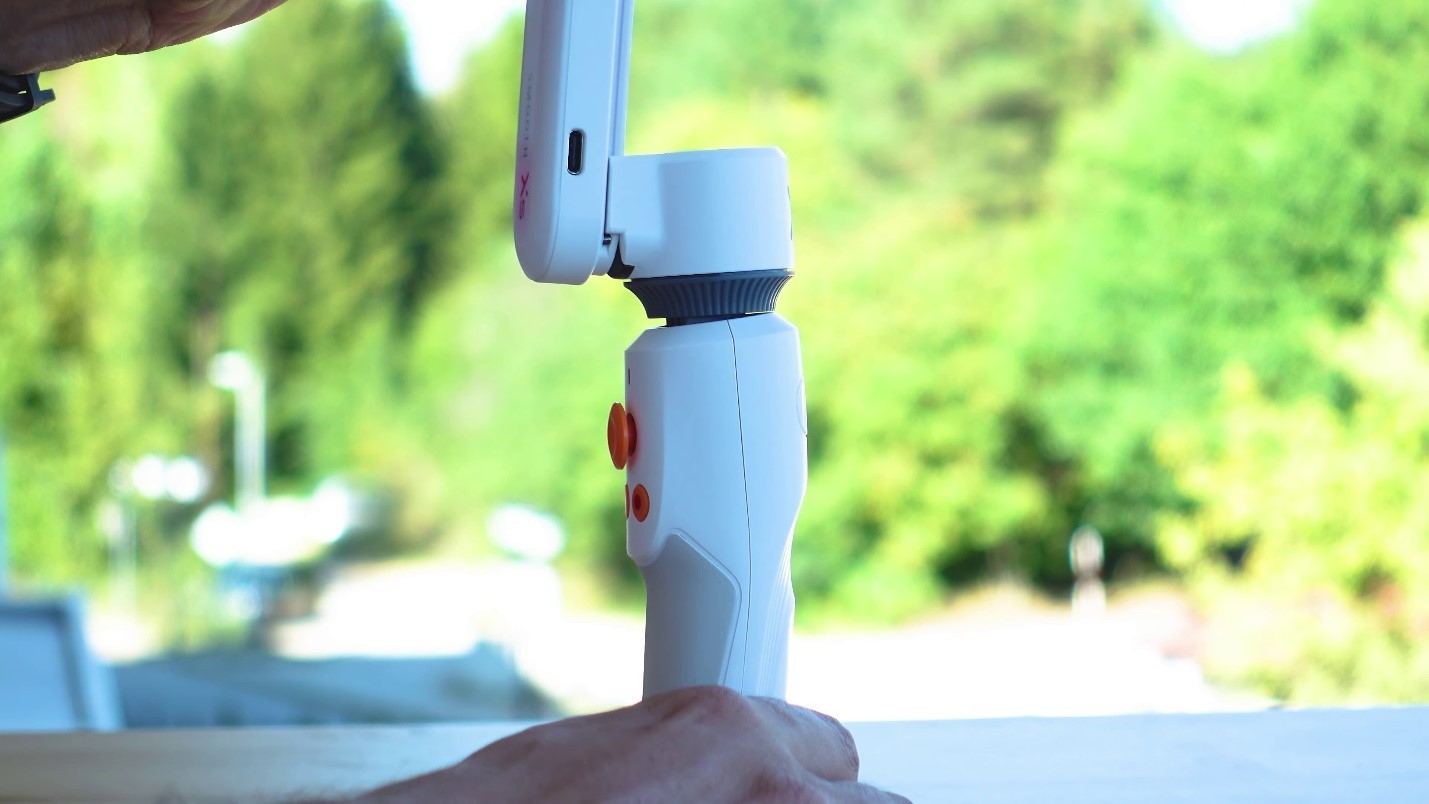 The first thing we notice in anything is its outer appearance, and Smooth XS comes with a sleek body and ergonomic handle design. It has an exquisite-lined, smooth anti-slipper for super comfortable handling.
It has an innovative slide design to slide it out and start shooting. Zhiyun has introduced four trendy colors to choose from according to your taste; black, blue, yellow, and red.
Technical Specifications
Smooth XS has a runtime of five and half hours plus power bank charging supported. That provides non-stop power for its users.
It has Two-axis stabilization and a telescopic expandable rod to 260mm, which is a blessing for selfie addicts. It is light-weight with only 250 grams weight, and you can carry it all day long without hurting your limbs.
For charging it uses a C-type port and a quarter-inch mount for the tripod. It can survive the smartphone with 50 to 90mm width of compatibility. It has more features like a joystick control, shutter button, and zoom button.
ZY Cami App for Multiple Features
Zy Cami is a dedicated app that comes with a system that is smart, friendly, easy and, with advanced professional functions. It is favorably inclined towards smartphones giving point and shoot, easy post-editing packed in this app, which means no need to buy expensive stuff.
It mainly focuses on glamour filters, emoji-strewn templates, and selfie-centric options, helping you enhance the level of photography. You can unleash your creativity with amazing features like panoramic photo mode, slow-mo, time-lapse, face tracking, tweaks to ISO, shutter speeds, resolution, frame rate, and many more.
Various Shooting Modes
There are diverse options to aid your experience. It has a smart mode that offers free templates that let you create movies with a push of a button and guide distinct angles to shoot incredible videos.
Another one is Pano mode that automatically takes few pictures as it pans from left to right.
Zhiyun Smooth XS comes with a selfie stick; you can capture selfies by pressing the shutter button. If you are willing to take a portrait away, set yourself a timer. Or a better option is gesture control which takes a picture after a 3-second count down.
Moreover, there is time-lapse and hyper-lapse, which is simply a moving version of time-lapse. You can use hyper-lapse to capture while walking around or riding a vehicle.
Special Features; Gesture Control and Glamour Effects
Are your hands busy? Set your gestures ready. Smooth XS has come up with this incredible gesture control feature that helps you start filming by waving a hand.
It works as a stimulus and triggers the camera to shoot videos or capture pictures. With glamour effect, you can make yourself look skinny or have googly eyes. You are even provided with an option to turn your cheeks rosy and glowing skin.
Native Camera
Smooth XS can support your phone's camera or native camera along with a selfie app with a Bluetooth control feature.
Few Limitations
Despite all the good stuff, however, there are certain limitations with 4K resolution, so you might prefer shooting in full HD. It lacks tilt and has a plasticity feel to it.
The compulsory Cami app sounds chaotic to some users, which has an intrusive sign-up process. Nonetheless, there is more weightage to pros than cons.
Final Verdict
Smooth XS comes with plenty of useful and reliable features. It surely offers pan and roll – no tilt- but they have priced accordingly. The selfie stick is handy for vlogging.
It comes with a colorful customized tripod, storage bag, and hand strap to facilitate your shooting. If you are a social media influencer or a vlogger, get your hands on this affordable, handy, useful, and multiple featured device. This device will surely portray you as a professional among the rest.
Learn about more Selfie Stick and Gimbal at tech4all.net
Links
YouTube Video: https://www.youtube.com/watch?v=iMxf27cIk6E
Smooth XS: https://geni.us/smoothXS