Nebula Capsule 3 vs. Samsung Freestyle: Which is the Better Portable Projector?
Portable projectors are a great invention; they are handy and provide entertainment at a rather affordable cost. The portable projector market is not diverse, but there are some products. Here is a comparison of the two best portable projectors in the market. The Android TV-powered Nebula Capsule 3 and Tizen OS backed Samsung Freestyle. Both projectors are high-end devices, so how do they perform side by side?
Here is a thorough comparison of both devices in 8 rounds.
Let's Inspect
| | | |
| --- | --- | --- |
| | Nebula Capsule 3 | Samsung Freestyle |
| Price | $799 | $899 |
| Technology | DLP 0.23 DMD | DLP 0.23 DMD |
| Peak Brightness | 300 ISO Lumen | 230 ANSI Lumen |
| Light Source Life | 30000 Hours | 20000 hours |
| Resolution | 1920 x 1080 | 1920 x 1080 |
| Chipset | MediaTek MT9691 | N/A |
| Operating System | Android TV | Tizen OS |
| RAM and Storage | 2GB + 16GB | N/A |
| Wi-Fi | Dual-Band Wi-Fi | Dual Band Wi-Fi |
| App | Nebula Connect | Smart Things |
Light Source Technology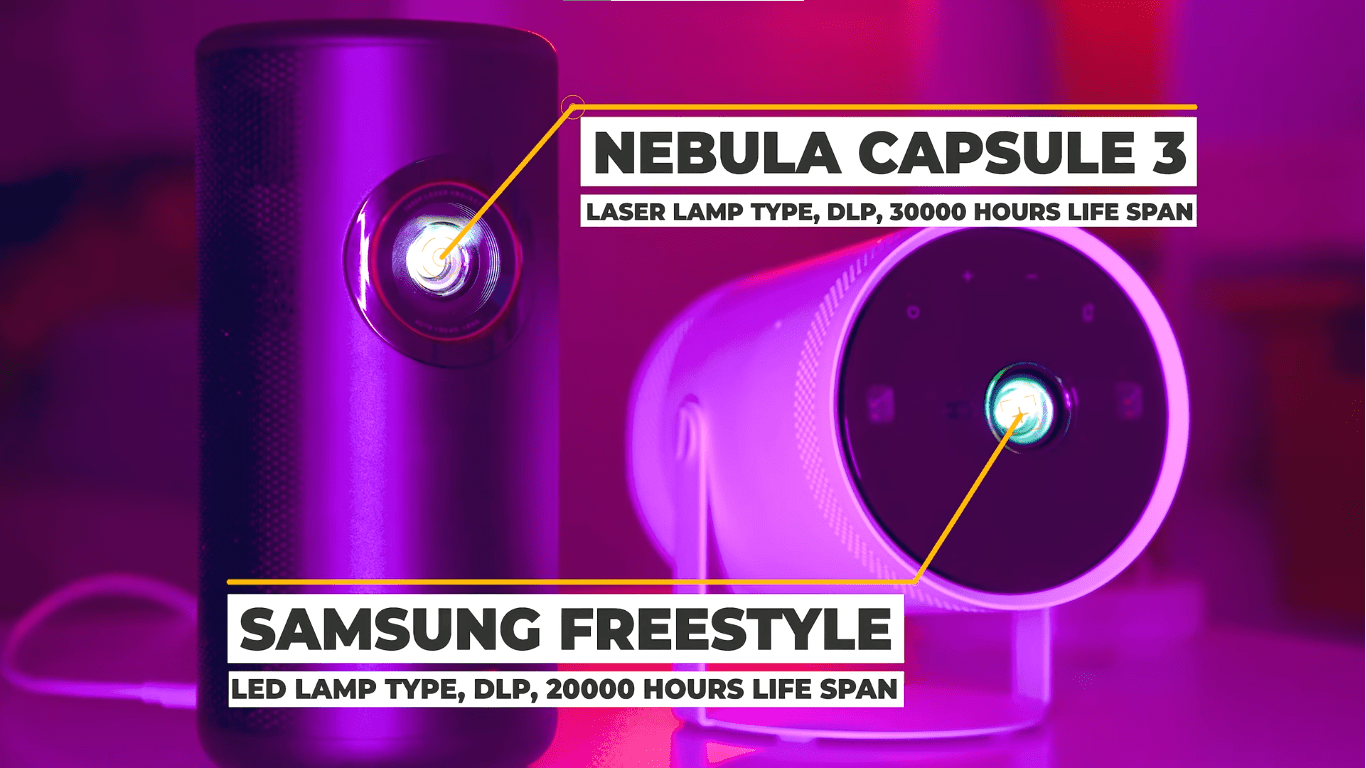 First up, we have the technology. Both are standard DLP-based projectors with 8-bit color processing; the only difference is the light source. Samsung Freestyle uses LED with a lifespan of 20000 hours.
On the contrary, Nebula Capsule 3 uses a more advanced laser light source with an estimated lifespan of 30000 hours. Its brightness is also better than Samsung Freestyle.
Overall, Nebula Capsule 3 is better on both paper and performance, which has decided the winner of this round.
Portability and Design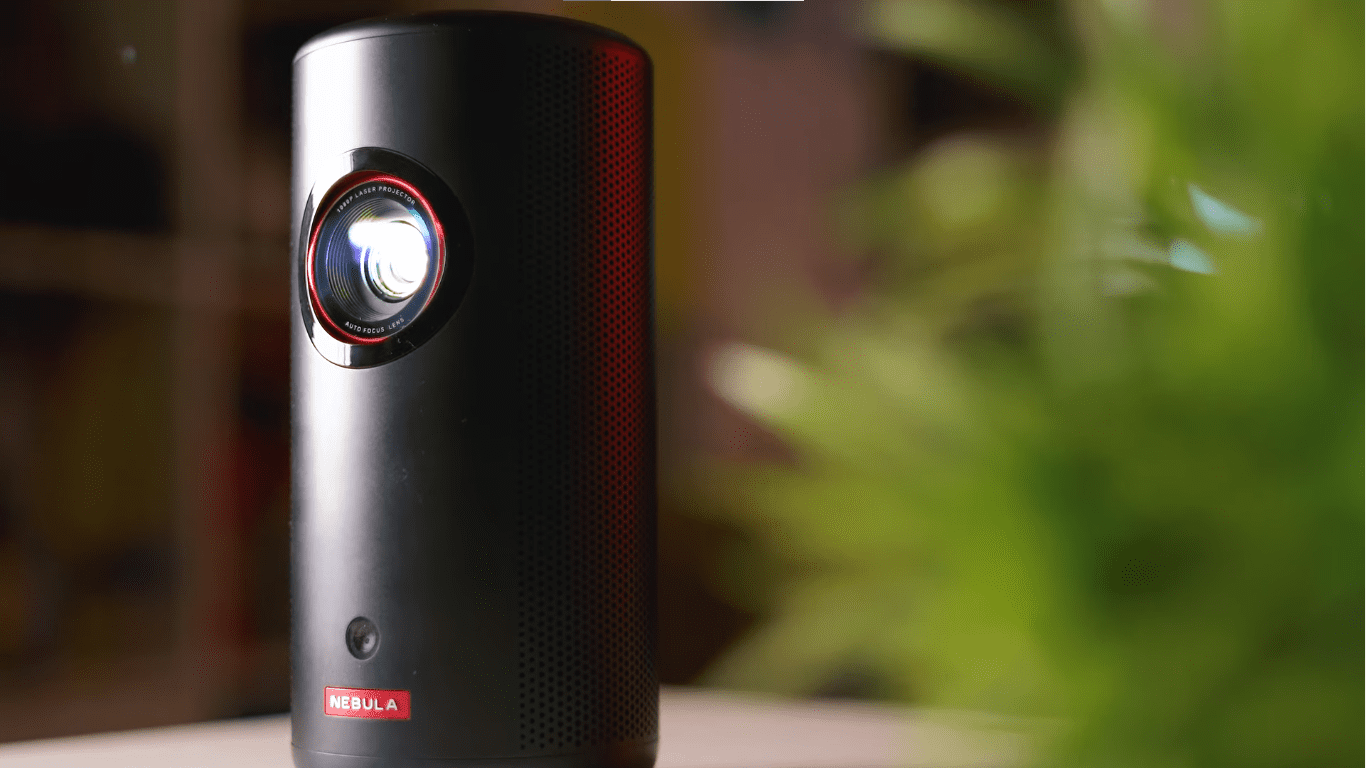 Design and portability are subjective category everyone has their own preference. Some are a fan of can-shaped Nebula Capsule 3. It has an excellent compact design which is easy to move around. The optics are well covered with glass that falls under the plastic body adding an extra layer of protection. I would have to love to see a protective cap like the one of Samsung Freestyle.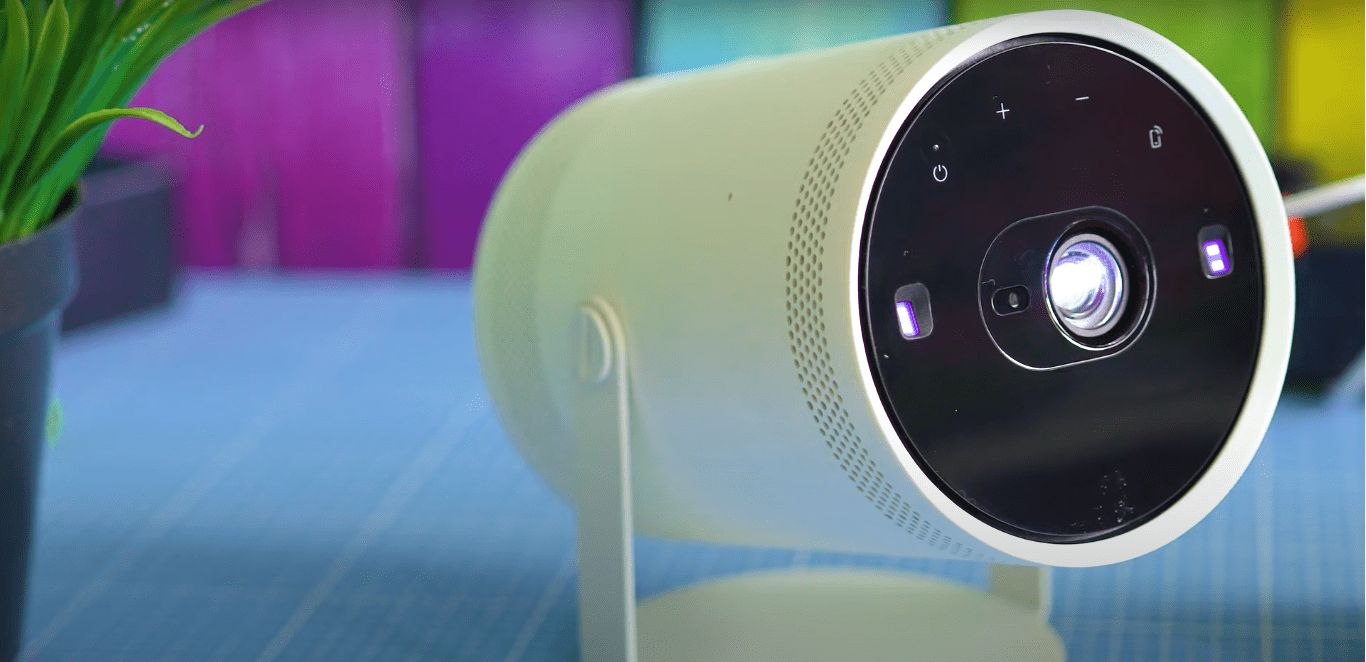 I personally like the design of Samsung Freestyle. The body is almost similar to Nebula Capsule 3 but fixed on a stand that allows it to move around 180°, allowing you to easily adjust the projector according to the way you are sitting.
Samsung Freestyle has won this round with its nicer-looking and easily adjustable design.
User Interface and Experience
Both of them run entirely different operating systems.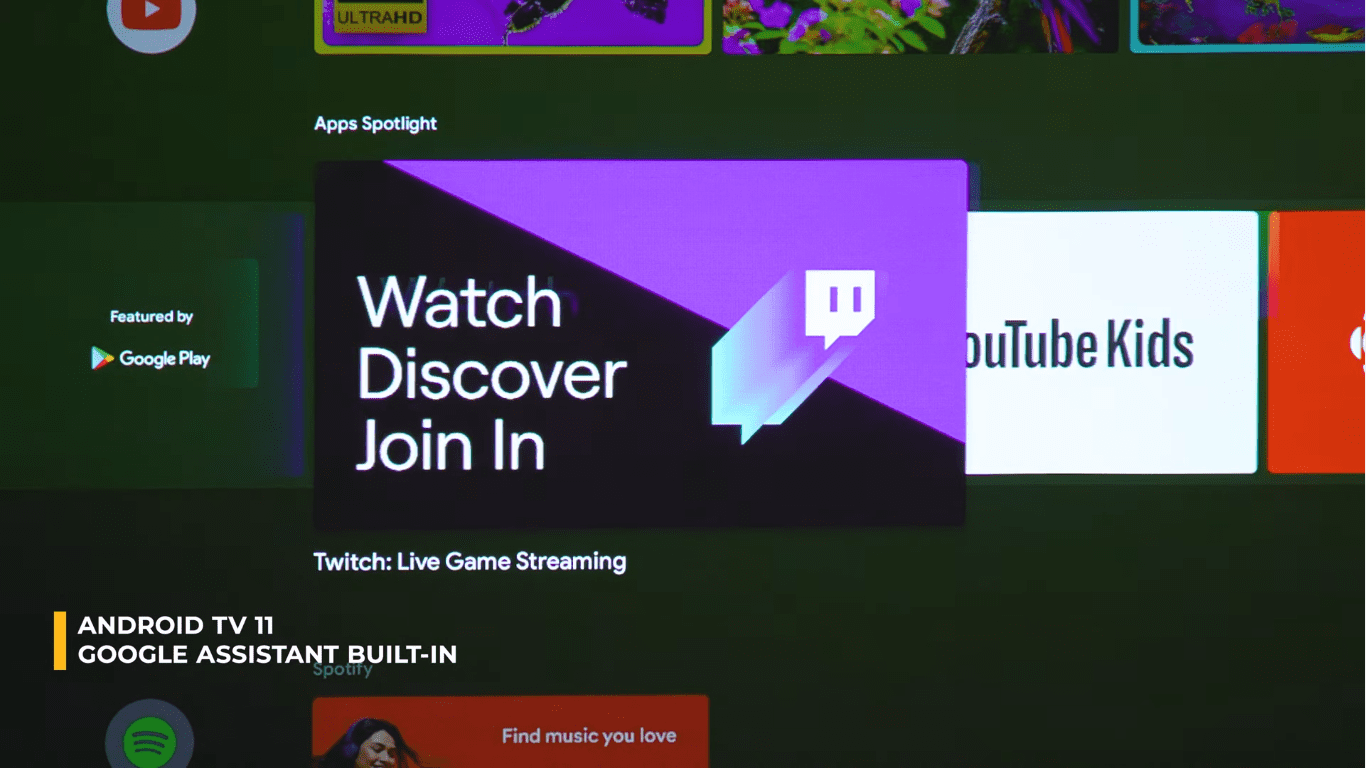 Nebule Capsule 3, with its Android TV 11, is excellent. Most of the time, it's smooth, functional, and can be customized to a certain extent. The OS is designed to consume more content, so the Play Store is a thing here. It gives you access to thousands of apps that can significantly enhance the experience. In the app's menu, we can see options like keystone correction, focus adjustment, etc. Moreover, Nebula Capsule 3 can run Netflix, but it is a mobile version, so you will need the Nebula Connect app or a real mouse to operate it.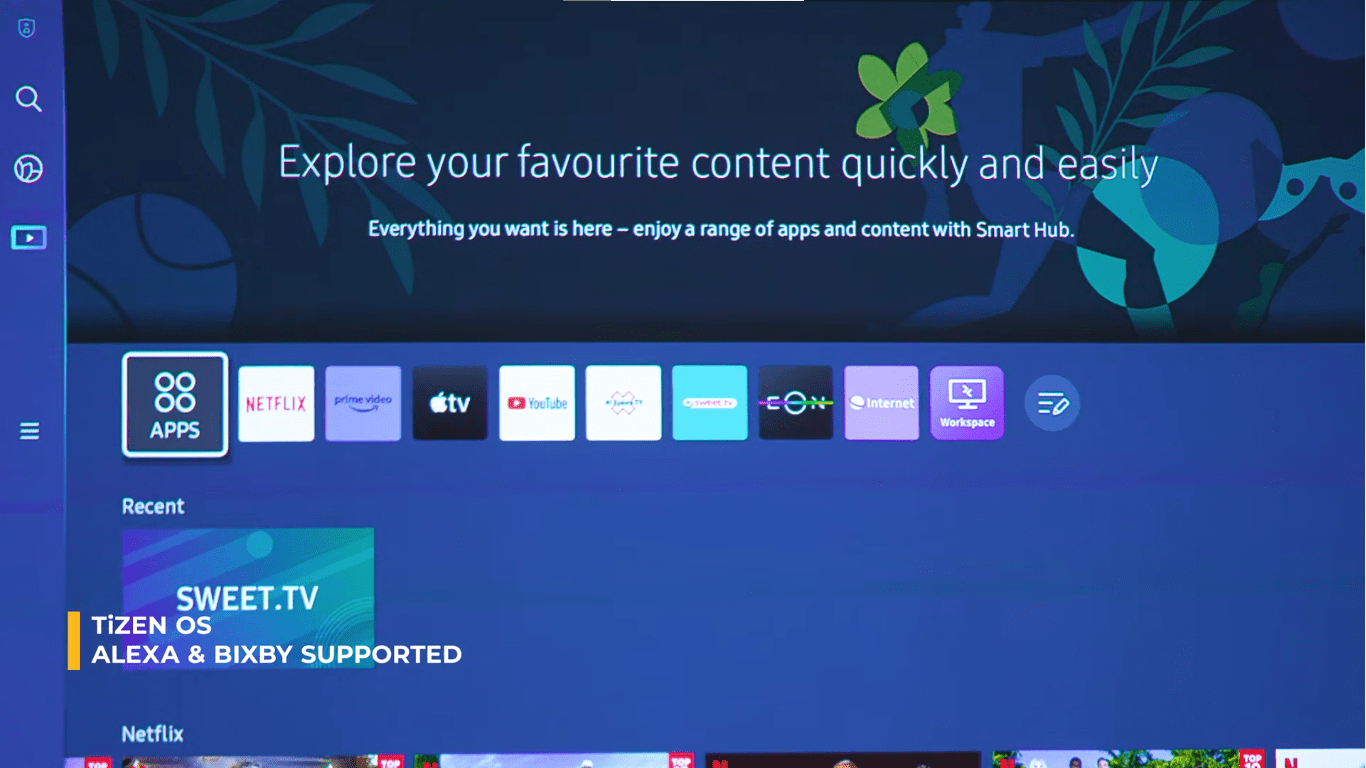 On the contrary, Samsung Freestyle has Tizen OS. It looks more aesthetically pleasing and has a better app layout. The app's availability is subject to region. I can access most apps, but we will have a better experience in countries like the USA and India.
Although somewhat laggy, I still like the Android TV of Nebula Capsule 3 because of its vast choices of apps and customizations.
Sound Quality and Fan Noise
Sound quality cannot be described in words. Here is the link to our YouTube video to get a precise idea of sound from both projectors.
Nebula Capsule 3 has a very quiet cooler; it is never notably loud. At the same time, Samsung Freestyle has a noisy cooler. Even at low usage, the fan noise is easily notable.
Auto Focus and Keystone Correction
Once you have positioned a projector, it's rarely moved. But these are portable projectors, so we will test keystone correction and auto-focus features.
Both devices have excellent features. They don't go through calibration and offer seamless keystone correction and autofocus.
Personally, Samsung Freestyle has a little better correction, making it a winner of this round.
Image Quality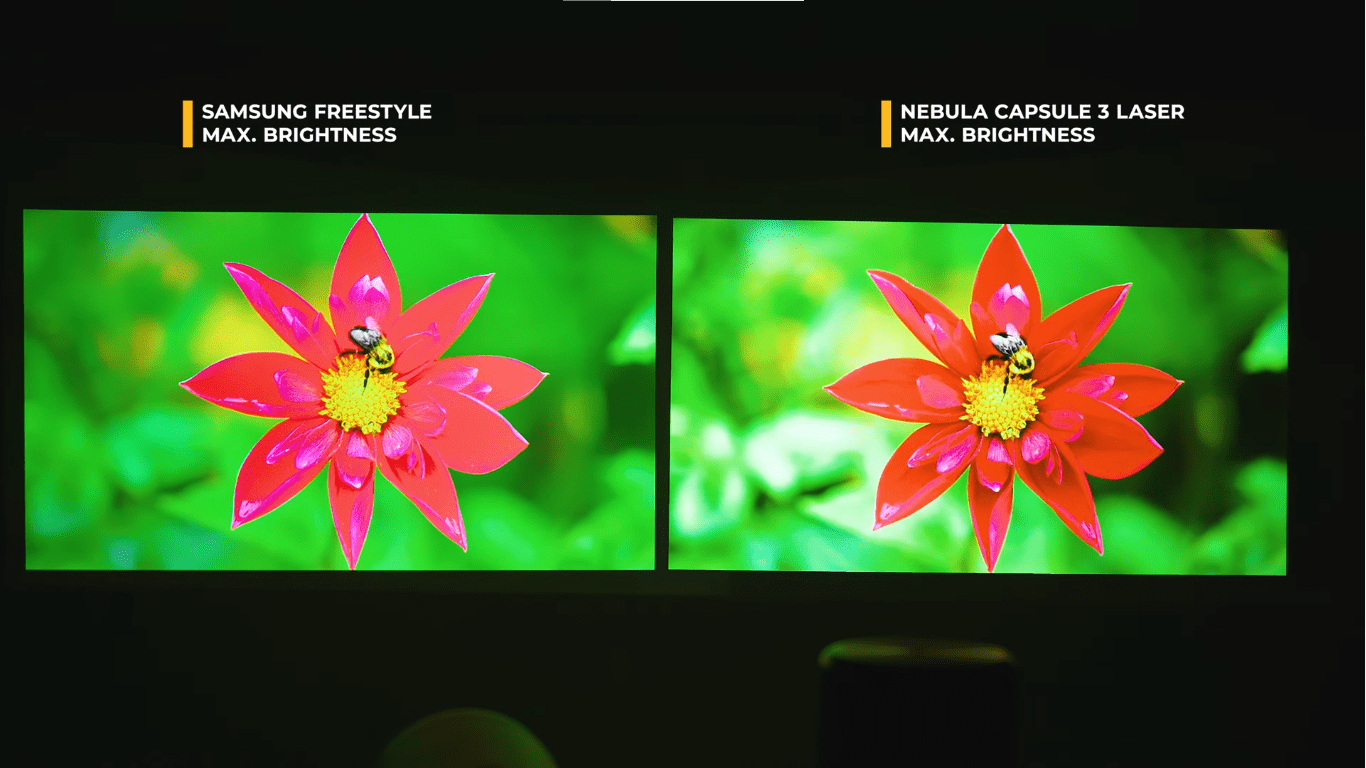 There are many aspects besides specs that need to be addressed. In terms of colors, Samsung is Samsung; they are deep, beautiful, and true to nature. Especially when you are streaming HDR content, but the shadows and dark colors are not as dark as they should be. It might be related to some software calibrations.
Nebula Capsule 3 has incredible contrast despite the same resolution; the picture looks sharper and more pleasant, which makes it a winner because of its better contrast, sharpness, brightness, and denser image in the daytime.
Price
In terms of price, Nebula Capsule 3 is a clear winner. It costs 100$ less and has a battery pack built-in. Despite being a portable projector, Samsung Freestyle has no battery inside. It needs an extra battery attachment to become fully mobile.
Final Verdict
In the end, both of these are excellent projectors, but the final choice comes from one's personal preference. If you will not use the projector outside your house and love Tizen OS, Samsung Freestyle is a great choice but will need a constant power source.
For a truly portable Android TV experience, Nebula Capsule 3 is the best laser projector. In addition, it has better image quality, a laser projector, and technology that makes it superior to Samsung Freestyle.