Navee N40 Review: Is this Mi Scooter Alternative Good Choice
Nvee N40; a portable city scooter that is almost a copy of the Mi Scooter. Xiaomi backed Navee to launch their first product, N65, about a year ago. The scooter even used Mi Home App.
N40 is like Navee finding its way on its own. On sheet, it has some amazing specs like a 45km range, solid construction, excellent top speed, and, as mentioned above, has an almost uncanny resemblance to Mi Scooter.
But does the electric scooter match the performance of the Mi Scooter?
Let's Inspect!
Summary
Pros
Efficient design and construction
Good Range
Excellent brakes
Handy Smartphone App
Comfortable tires and wide board
Cons
Underpowered motor
Irritating kickstand
Weak mudguards
Struggles on inclines
Navee N40 – Price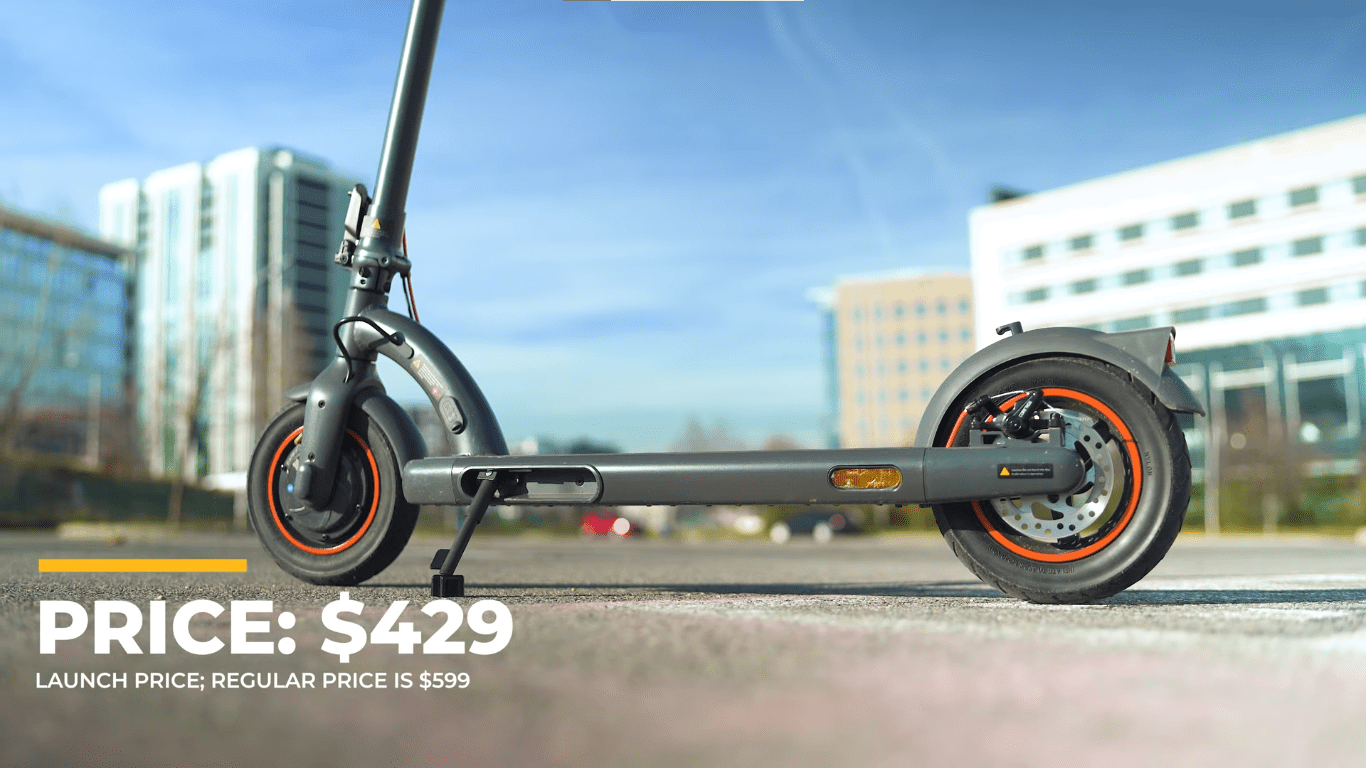 The scooter was launched at 429EUR, which is roughly the same in Dollars. But for some reason, the N40 is going for 600$, which is quite extravagant and almost the same price as the previous N65.
Let's hope it's a temporary price spike, and soon the scooter will be sold at its original price. Because at 600$, you can get an excellent electric scooter with suspensions, tubeless tires, dual-motor, and dual disc brakes.
Navee N40 – Unboxing
Unboxing is a vital aspect of a product; it shows how a company approaches its customers. Navee has opted for a very generic electric scooter packaging. It's nice and easy partly because the scooter is light.
Inside all the contents are well protected with Styrofoam and plastic wrapping. In one of the Styrofoam paddings, you will find the user guide, charger, screws, and tool to assemble the scooter.
Appearance and Build Quality
Navee N40 looks quite good at first sight. It is beautiful, solid, and the resemblance with Mi Scooter is well visible. The scooter arrived pretty much assembled; you just have to tighten six screws to get going. Moreover, don't worry if the scooter does not turn on. It might need some charge to get up from hibernation, as Navee has programmed it to sleep after seven days of inactivity. This can be annoying for some, but I think it is a perfect solution to ensure the battery's longevity. The folding design is good, and the locking mechanism looks quite reliable. You cannot fold the handlebar like Mi Scooter but can dismount it by unscrewing some nuts.
It is a very traditional electric scooter. It has a wide and comfortable board with a rubberized finish. That combines with 10-inch pneumatic tires to provide a comfortable ride. It has a brake light, headlight, and reflectors on both sides to keep you visible on the road.
The handlebar feels quite familiar. The grips are comfortable, and the screen is pale and hard to see in sunlight. It only has one function button, and advanced options are accessible via the Go Navee app.
The scooter has only one disc brake on the rear tire. This is a bit of a bummer because many European countries, like Germany, have strict laws to have two mechanical brakes on electric scooters.
The stand is on the annoying side, it fits in a slot, and often we have to use our hand to take it out.
Technical Specifications
Motor: 350W on the front wheel
Speed: 25km/h to 30km/h
Battery: 10Ah 36V
Range: 45km expected
Frame:
Weight: 15.5kg
Max Loading Capacity: 100kg
Brakes: Single disc brake on the rear tire and electric brake on the motor
Tires: 10-inch pneumatic tires
Water Resistant: IPX4
Smartphone App: Go Navee
Navee N40 – Performance
If we were to rate the electric scooter just by specs, Navee N40 would have been a great electric scooter. But things are actually not like that. This is why real-life reviews are critical.
So, here is how the electric scooter performs on the road.
Motor
Navee N40 has a 350W brushless motor in the front tire. The scooter has 3 speed modes and, according to the website, can handle up to 20% inclines.
It does not take much time to know the motor is way less powerful than other similarly specced scooters like Mi Scooter 4. It takes a lot of time to reach the top speed, and uphill rides are a nightmare for this electric scooter.
At places where Mi Scooter can easily maintain 21km/h, Navee N40 was unable to cross the 8km/h mark. Moreover, even on flat roads against the wind, you cannot maintain the top speed, which could be better.
Among the 3 speed modes, the second one is quite balanced and allows you to maintain 18km/h, which is quite lovely for city commuting.
Range
The range of Navee N40 is pretty good. It has a 10Ah battery that gives you an almost 30km range. It is not as good as the expected range of 45km. But you have to consider that it's winter and the payload on N40 is almost 90kg, about 90% of maximum capacity.
The range of the scooter is excellent and quite handy for city commuters.
Riding Comfort
Navee N40 does not have suspensions, so the primary shock absorbers it 10-inch pneumatic tires, which are on the good side. They are fantastic at absorbing bumps.
The board is also vast and long, giving enough room to comfortably rest both feet. Moreover, the rubberized surface also ensures a solid grip.
Safety
Navee N40 has a single disc brake on the rear tire long with an electric brake that stops the motor. Both work exceptionally well. The braking distance is very short.
Moreover, it has a headlight, brake light, and reflectors on both sides of the wide board.
Go Navee
Go Navee smartphone app is another outstanding achievement for the company. Prior to the launch, Navee was using the Mi Home app to control electric scooters. Go Navee is a nice app with options to fine-tune the electric scooter's performance. You can also enable cruise control.
Moreover, the app also stores all the details about the rides, range, and distance covered.
Drawbacks
Slow acceleration
Poor Incline capabilities
Weak mudguard
Annoying kickstand
Verdict
Navee N40 is a cheap alternative to Mi Scooter 3 with slower acceleration, good range, and a smoother ride. So, if you weigh under 70kg and do not want to spend a high sum on Mi Scooter, go for Navee N40.
Learn more about the electric scooter in our YouTube Review.