Mokacam Alpha 3 4K Action Camera Review: A MEGASCAM or a poor-quality GoPro Alternative
Mokacam Alpha 3 is an action camera that promised to deliver excellent image quality with a unique flip screen. But turns out to be a disappointment in every aspect.
I got my prototype unit 2 years ago, back in 2019, and now the final version is released after 24 months.
Let's Inspect!
Overview
In a hurry, read this short overview stating the pros and cons of Mokacam Alpha 3.
Pros
Average Image Quality.
Good Software side.
Inexpensive
Cons
Cheap Build Quality.
Useless flip screen.
Bad customer support.
Small battery and less endurance.
HDR is not available.
4K videos are not stabilized.
Mokacam Alpha 3 – Price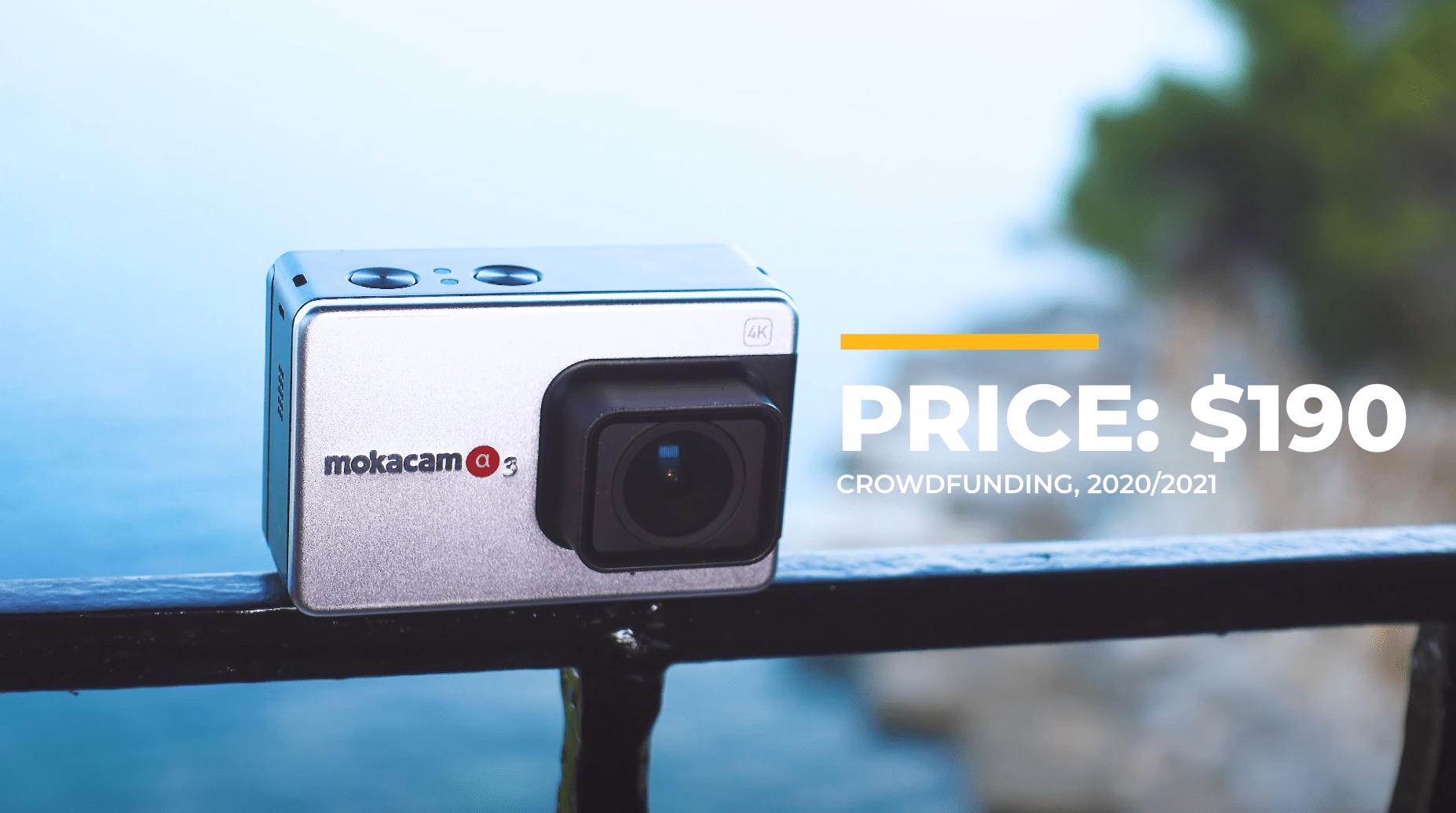 There are many high-quality action cameras like GoPro Hero Series, DJI Osmo Action, Insta 360 etc, but their devices are pretty expensive. Mokacam Alpha 3 is competing against these premium products at a fairly affordable price. The camera costs 190$ in the crowdfunding campaign on Indiegogo. I think they will not sell it at the retail price, considering the issues with the device.
Mokacam Alpha 3 – Unboxing
Unboxing is OK. The box has some scratches despite its inside another cardboard box. But it's just the exterior; let's hope that everything is fine inside. Opening the box will reveal a card with excuses and justifications why the product is two years late.
The box has three slots. One of them is holding the camera with the waterproof case; sending the camera with a waterproof case is pretty good. The second compartment has a tempered glass screen protector; the protector is very thick and doesn't cover the entire screen surface. The last slot is holding the accessories box. Accessories include an extra battery, microphone adapter and a bunch of other wires and valuable products.
Appearance and Build Quality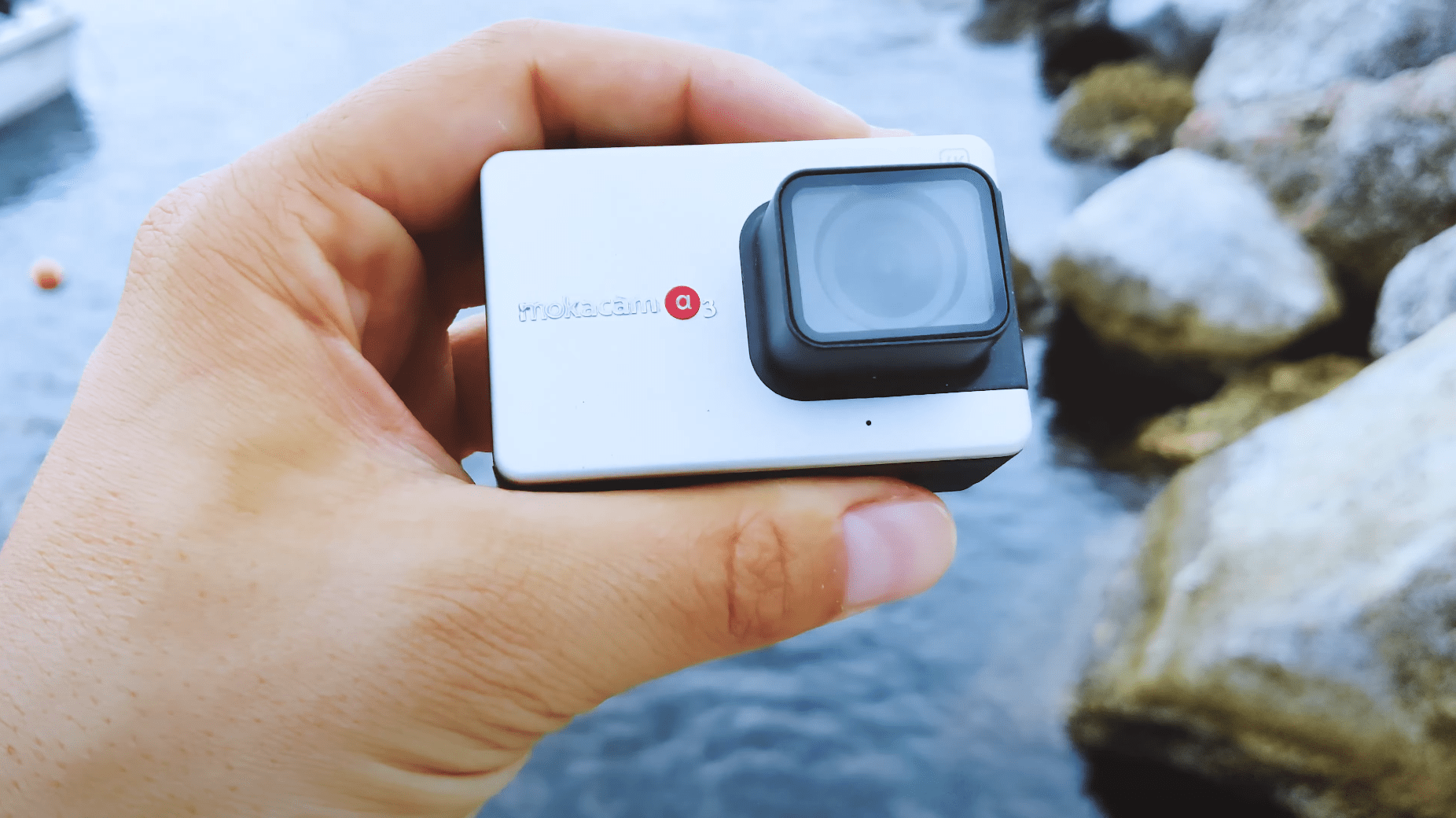 The appearance is not so great; the colour is slightly different from the prototype. There are two buttons on top and ports on the left side of the camera. Button's quality is somewhat improved, but now they are misaligned. Underneath, we have the battery and quarter-inch screw mount from tripods and gimbals.
Build quality is a major, major issue. A screw fell from behind the screen when I tried to flip it for the first time. Then my efforts to put the screw back were useless because the threads were flat. On the fifth attempt, the flip screen almost fell apart. So to preserve the touch screen operation, after numerous attempts to somehow fix it, I managed to put it back together and set it as a standard action camera screen. The build quality is so bad that the screen doesn't even fit in properly; it weirdly sticks out.
The camera seems to be a device put together in a garage with no quality control.
Mokacam Alpha 3 – Specifications
Chipset: Ambarella H2
Image Sensor: Sony IMX577 with F2.8
Micro SD card: Up to 512GB support
Battery: 1050mAh
Field of View: 166° FOV
Ports: USB Type-C, mini-HDMI port
Max Resolution: 4K 60 FPS
Weight: 129 grams
Mokacam Alpha 3 – Hardware
Mokacam Alpha 3 uses a Sony IMX577 image sensor. It is a popular sensor and most of the camera like GoPro, DJI have used this in their action cameras. The lightweight camera has a flip screen which would have been a great addition if the construction was good.
The flip screen was a game-changer, but Mokacam failed to implement it properly. The flipping mechanism became useless when I opened it for the fifth time. In addition, there are many shortcomings in terms of hardware, like buttons are not aligned, and overall construction feels fragile. The screen protector is also thick and doesn't cover the entire screen.
The battery pack is comparatively smaller than other action cameras; it has a 1045mAh battery with an endurance of 90 minutes. There is one HDMI, one USB Type-C and SD card slot with 512GB support.
Mokacam Alpha 3 – Software
After learning the hardware, let's discuss the software aspect of the Mokacam Alpha 3. Something designed more than two years ago should be better than most action cameras even now, in 2021.
Let's power the camera on, go through the setup and see how it all works. Menus here are strikingly similar to what we find with SJCAM's products. Everything felt almost the same as using the SJCAM SJ8 Pro or any of their pro-devices ever since. The touch screen offers a lot of menus for customization, even some features that are professional-videographers oriented, like ISO control and white balance control.
However, the shutter speed control is missing, meaning that you can never correctly control the 180-degree filming rule and get some GoPro-like quality footage.
Mokacam claims that the image sensor has HDR enabled; it's not a feature in the software menu, but they said it's on by default, on a hardware level. But after looking at the video quality, I'm still not that convinced.
Most of the image resolutions delivered decent quality. 4K at 60 FPS is not stabilized, meaning that if you are filming in a dynamic environment, the footage will be worthless unless you use a gimbal. Just a reminder that GoPro Hero 7, 8 and 9, Osmo Action and insta360one R all provide 4K recording at 60FPS with image stabilization. The image quality is good—a lot of white balance issues and zero firmware updates and support.
GoPro is clear winner in both broad and low light footage.
Final Thoughts
The camera is one of the worst products I have ever reviewed. There are a huge number of issues. Everything part of the camera needs improvements. Moreover, the customer support is uglier than the product itself. The Mokacam's support team is something you can easily avoid because it's rather useless; you will only hear lies or excuses. It is like that for the past 25 months. I was patiently waiting for my camera and asking for status about what was taking so long.
The even worse part is that the owners of Mokacam seem to enjoy stealing people via crowdfunding campaigns. Jan Mark is the owner who is behind projects like Hyperdisk, Surgeclub Wi-Fi headphones, Surge-Mini, Halo-Power bank, lately – a new air purifier and possibly many more. They continue to spam people about new projects via unwanted spam messages, which is against many laws these days. I reviewed the hyper-disk and removed the video when I noticed that people were not receiving what they were promised.
So beware, there seem to be scammers like Mokacam, and I'd gladly rename them to Mokascam. Or Megascam. Because this is not only something with the disastrous build quality and lack of support. It's an utter scam and a trap that many people will fall into; waiting for something to be delivered two years is unacceptable.
I am deeply disappointed that there still are companies that do business like that. It's unfortunate to see such scam-tactics to undermine the credibility of crowdfunding websites. Once again, I'd like to ask Indiegogo and Kickstarter to evaluate their rules about who can run crowdfunding campaigns on their platforms.
Where to Buy?
I would not recommend you to buy this camera. But if you want then, here is the link. You can watch the video review on YouTube and learn about some good quality action cameras at tech4all.net.