Mi Band 6 vs Honor Band 6: Which is the Best Budget Fitness Tracker?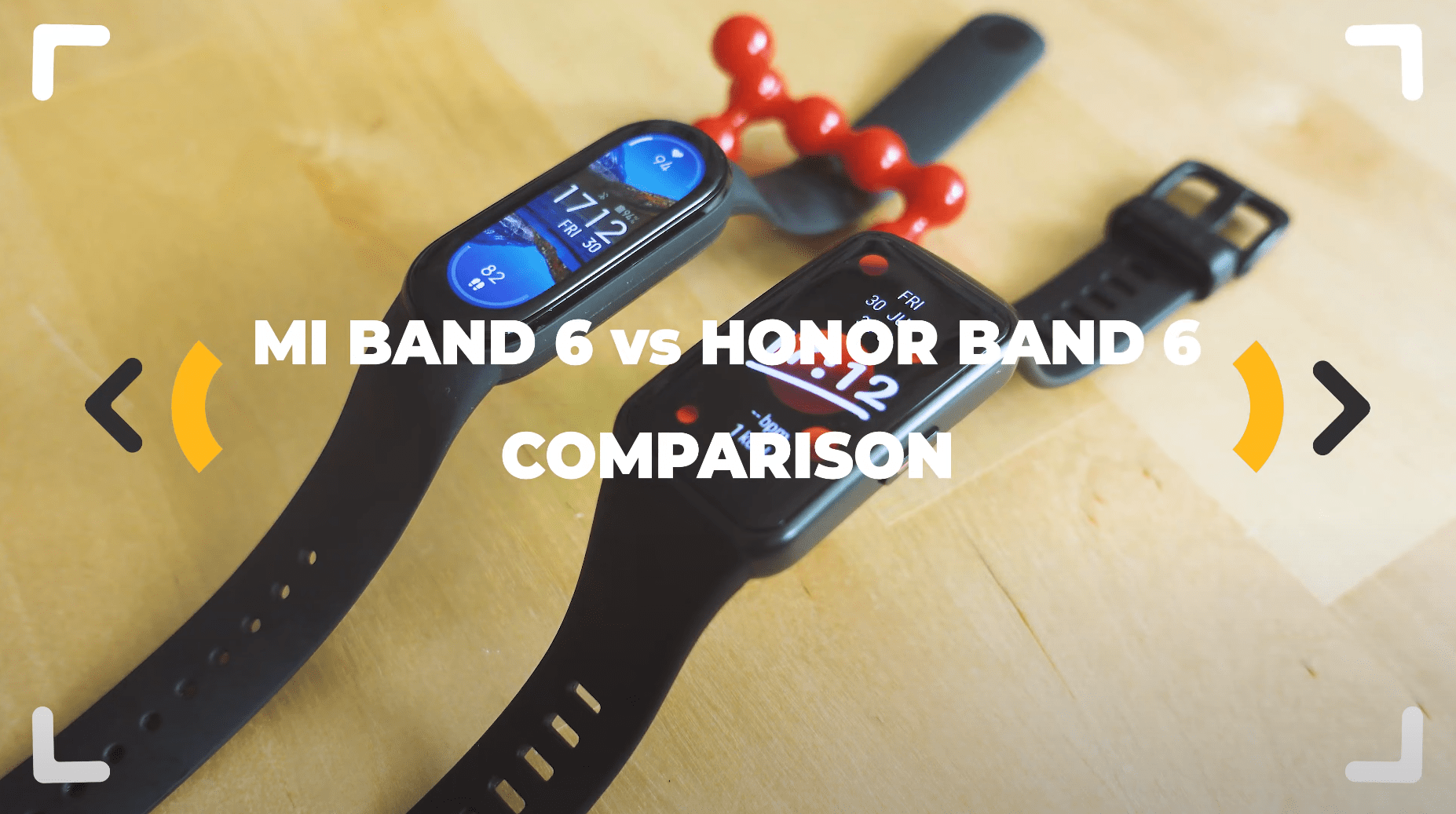 Mi Band 6 vs Honor Band 6 is one of the most anticipated match. The market is filled with good quality budget fitness trackers, but Mi Band 6 and Honor Band 5 are the absolute champions.
Both fitness trackers will be competing in seven categories:
Design and Build Quality
Display
Battery Life
Features
Smartphone App
Accessories
Price
Let's inspect these cool fitness trackers.
Overview
| | | |
| --- | --- | --- |
| Specs | Mi Band 6 | Honor Band 6 |
| Display | 1.56-inches AMOLED screen with 152 x 486 resolution | 1.47-inches AMOLED screen with 194 x 368 resolution |
| Battery | 125mAh | 125mAh |
| Sensors | 3-axis Gyroscope, 3-axis accelerometer, PPG heart rate sensor, spO2 sensor | Blood Oxygen, Heart Rate Sensor, Accelerometer, Gyroscope |
| Weight | 12.8 grams | 18 grams |
| Connectivity | Bluetooth 5.0 | Bluetooth 5.0 |
| Waterproof | 5ATM | 5ATM |
Design and Build Quality
Mi Band 6 has a beautiful rounded body with plastic construction and a silicone strap. The screen is covered with tempered glass. A good thing about the Mi Band 6 is that the strap surrounds the body. That makes the watch less prone to scratches and provide extra protection in case of accidental falls. Moreover, the black strap of Mi Band 6 is antibacterial as well.
Honor Band 6 has similar construction, the screen has tempered glass protection, and the body has plastic construction. The screen is relatively bigger, but there is no protection for the body.
So, Mi Band 6 is the winner because of its sound design. Both of them have similar construction, but extra protection of Mi Band 6 gives it an edge over Honor Band 6.
Displays
Mi Band 6 has a 1.56-inches AMOLED screen diagonally. The round screen has more pixel density, but the screen is thin.
On the other hand, Honor Band 6 has a 1.47-inches AMOLED screen. The screen is a bit smaller in length, but it is relatively thicker, providing a great user experience due to the larger screen area.
So, the winner of this round is Honor Band 6 due to its brighter and thicker screen.
Battery Life
Both bands use a 125mAh battery. Fitness trackers have a great battery life, but there are many deciding factors. Like outdoor activities, weather, what are you tracking, firmware etc.
I turn on all the tracking options when testing the battery life, but today I have measured the battery life in both basic and all tracking mode.
In basic Mi Band 6 was able to score 14 days while Honor Band 6 score was 13 days. Results were similar in all tracking mode; Mi Band lasted seven days while Honor Band battery was empty after six days.
So, Mi Band 6 wins this round with a small margin of one day.
Features
Fitness trackers in 2021 are capable of almost everything. Mi Band 6 and Honor Band 6 are pretty similar in terms of specs. I like the physical button on Honor Band; it is handy when your hands are wet. Both fitness trackers can auto-track workouts, heart rate, sleep cycle, daytime naps, menstrual cycle etc. Mi Band 6 has slightly more workout options.
Step tracking was off by 5 to 10 steps per 1000, and HR tracking was excellent on both.
I will choose Honor Band 6 as the winner because of its better menu implementation and physical button.
Smartphone App
Mi Fit is the official app of Mi Band 6. The app is easily accessible on both Google Play Store and Apple App Store; it is an excellent and capable app with many great features, customizations and accurate and detailed data chart. Moreover, you can use the Zepp App to link Strava and a few other third-party apps.
Huawei Health is the official Honor Band 6 app. You cannot download the app from Play Store, so you have to download it from Huawei or Honor website, or you can download it from Huawei App Gallery. Moreover, it asks for Huawei framework installation to run the Health app, making the process trickier. I also heard about some problems with iOS, like limited features.
So, a clear winner in this category is Mi Band 6.
Accessories
Mi Band 6 has many strap colour options if you want a fresher look, and you will also see screen protectors readily available on Amazon and Ali Express. A good thing about the Mi device is that Band 4 and 5 straps will work with Mi band 6.
On the other hand, there are good strap and protector options.
This round is almost a tie, but I will give the point to Mi Band 6 because it has a wide variety of straps.
Price
There is a tie in this category. Both products are available in the 40$ to 60$ range depending on the season, region and sale.
Mi Band 6
Good things in Mi Band 6.
Honor Band 6
Good things in Honor Band 6.
Conclusion
According to these comparison categories, Mi Band 6 is the winner. I believe it has a better design, slightly better battery life, much nicer smartphone app options and tons of accessories. However, Honor band 6 cannot be ignored with its nicer and brighter display and close to smartwatch-like user experience. So it's your turn now. Which is the wearable you like more: Mi Band 6 or Honor Band 6?
Where to Buy
Both devices can be bought from their respective website. Here are the links for Mi Band 6 and Honor Band 6. Moreover, you can watch the video review on YouTube and click here to learn about more cool techs.