Samsung Galaxy S23 VS Google Pixel 7, the two of the best smartphones of 2023, are up against each other in this article. We are testing the cameras to find out which is the best of all. Both smartphones are rocking excellent camera cameras powered by solid, fast, and up-to-date chipsets that expertly handle all the intricate tasks of photo and video processing.
We all know google pixel has been a strong competitor in the market due to its affordable pricing and exceptional cell phones, but how does it compare with a slightly budget-friendly option from Samsung, The Galaxy S23?
So, let's start with what the 7 cameras of both phones look like on paper.
| | | |
| --- | --- | --- |
| | Google Pixel 7 | Samsung Galaxy S23 |
| Image Sensor | GN 1 25mm | S5KGN3 24mm |
| Processor | Google Tensor G2 | Snapdragon 8 Gen 2 |
| Main Lens | 50MP f/1.9 with OIS | 50MP f/1.8 with OIS |
| Ultra-wide Angle | 12MP f/2.2 with 114 FOV | 12MP, f/2.2 with 120°FOV |
| Telephoto Lens | No | 10MP, f/2.2 OIS |
| Video Resolution | 4K up to 60 FPS, 1080p up to 240FPS | 8K 30FPS, 4K 60FPS and 1080p up to 960FPS |
| Front Camera | 10.8MP f/2.2 | 12MP, f/2.2, with HDR10+ |
| Video Resolution | 4K and 1080p up to 60 FPS | 4K and 1080p at 60FPS |
Google Pixel 7 vs Samsung Galaxy S23 – Main Camera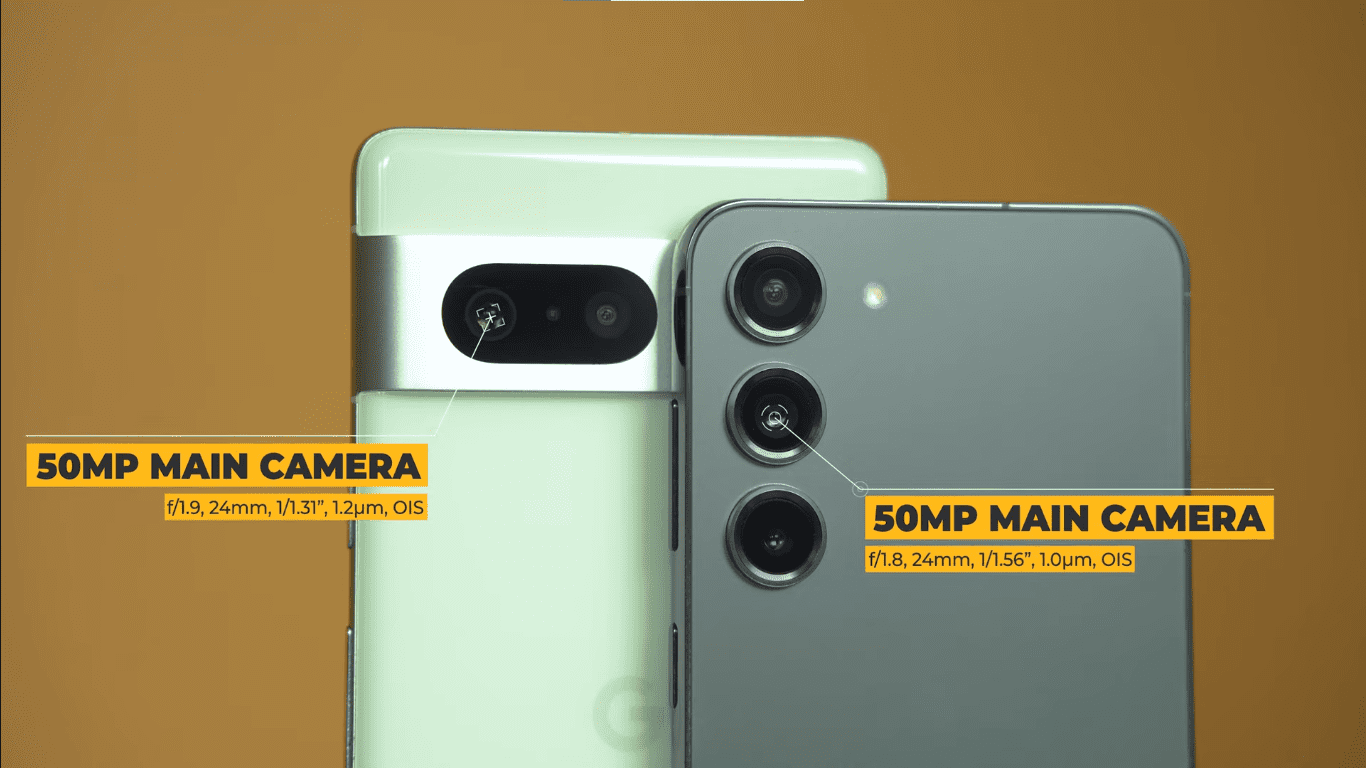 Let's start with the primary camera. Both of them have solid 50MP cameras capable of capturing excellent pictures. Here are how the pictures look. Both look great; the dynamic range is exceptional, with correct exposure and beautiful colors.
The pictures are great, but as soon as we zoom 3x, you will see that the picture of the Google Pixel 7 is not sharper, and the textures are not that great. On the contrary, Samsung Galaxy S23 has better colors, sharpness and details after the zoom, even after increasing the sharpness of the Pixel 7 picture. Overall, both of them have excellent image quality.
Pixel phones are the inventor of the night mode, they were the first to introduce that, and still, they are among the best in the market. Pixel 7 has preserved a lot more detail, but the colors on Samsung Galaxy S23 are far better than the competitor. They are evidently better, enabling S23 to capture better low-light pictures.
The videos from both are also exceptional. Galaxy S23 videos look pretty nice in the daytime, while Pixel 7 has slightly less grain. The video of S23 is dynamic, color-rich, and has many more details. In low light, the optical image stabilization of S23 plays a massive role. Allowing it to show smoother, more colorful, and detail-oriented videos. Despite having a slightly bigger main lens Google Pixel 7 is unable to capture better colors n low light.
For detailed samples, visit our YouTube Channel
Ultra-Wide Angle Camera
Next up, we have the ultra-wide angle camera. It is quite evident that Samsung Galaxy S23 has better colors, a wider field of view, and a brighter image. On the contrary, Google Pixel 7 has slightly bad colors, and the details are not as good as Samsung's.
The low-light ultra-wide angle shots by S23 are excellent. The emphasis on color preservation has really enabled the mobile to produce stunning pictures. They are sharper, brighter, and have accurate colors over Google Pixel 7.
Samsung Galaxy S23 also leaves Google Pixel 7 behind in terms of ultra-wide video quality. The video is brighter, more colorful, and more stabilized than Pixel 7.
Google Pixel 7 vs Samsung Galaxy S23 – Telephoto
Google Pixel 7 does not have a telephoto lens, while Samsung Galaxy S23 packs a solid triple-zoom camera. You can emulate the zoom with Pixel's digital zoom option in the camera app. Pictures from both phones look good, but Samsung has more details and better colors thanks to its dedicated lens, while Pixel 7 has a lot of grains and artefacts affecting the image quality.
Low-light shots and videos through the telephoto lens are also an excellent addition. We can see that Pixel 7 has preserved more details in the shadows. Regarding videos, Samsung Galaxy S23 is way ahead with its dedicated lens and optical image stabilization.
Click on the Link for more samples and camera comparisons between these smartphones.
Google Pixel 7 vs Samsung Galaxy S23 – Front Camera
Let's rotate the cell phone and have a look at the front cameras. Both of the phones do not make any mistakes with the pictures. They are sharp, detailed and colorful. Moreover, post-processing on both devices is incredible and fast.
Google Pixel 7 vs Samsung Galaxy S23 – Camera App
Creative shots and pro modes are an integral part of the camera app. They allow us to create stunning and unique visuals and top-notch quality.
Google has always been known for exceptional camera apps, and the legacy is also continued with Google Pixel 7. It is among the most reliable app and provides a true pixel experience. It has a modern, clean, minimalistic design with handy options like HDR video, slow motion, and many more creative elements. Another great thing is the video and photo editing app. It has tons of options, but a standout one is the erase tool that easily removes everything you want to delete from your picture, providing you with a clutter-free beautiful image.
Samsung Galaxy S23 app has more emphasis on creativity and versatility. It has a lot more options than the Google Pixel 7, like AR Zone, Expert RAW Mode, document scanner, and much more. It also has an eraser tool, which can easily add new background, remove objects and blur backgrounds with little effort.
Conclusion
Samsung Galaxy S23 has gotten so much better with consistent updates over the past few months after the launch, and still, Snapdragon 8 Gen 2 can get better with updates. On the contrary, Google Pixel 7 is maxed out due to the limitations of the Tensor chip, so you will only get upgrades with a better image sensor and processor. So, choosing the best one can be difficult but keep in mind.
Samsung Galaxy S23 is smaller, faster and significantly better in many cases, but Google Pixel 7 is 200$ cheaper. So, no matter what mobile you get, we can ensure that you will get a premium experience in terms of image quality, processing, and overall user experience.
*Our website is supported by readers like yourself. We may earn an affiliate commission when you purchase through our links, which enables us to offer our research for free.