Google Pixel 7 vs. Nothing Phone 1: Camera Comparison
In this modern era, people are looking for a quick point-and-shoot camera option that can capture exceptional social media quality pictures. There are flagship smartphones like iPhone and Samsung with the best cameras in a smartphone. But they are fairly expensive. We are going to test two mid-range smartphones with image sensors and processors as good as a flagship smartphone. Nothing Phone 1 and Google Pixel 7 are two excellent camera phones.
I am testing these smartphones in early 2023 when Google Pixel 7 is running the latest Android 13 while Nothing Phone 1 is running Android 12, but it is getting consistent updates, so we might see Android 13 in a few months.
So, here is a thorough camera comparison of exceptional mid-range smartphones. Camera Specs
| | | |
| --- | --- | --- |
| | Google Pixel 7 | Nothing Phone 1 |
| Image Sensor | GN 1 25mm | IMX 766 24mm |
| Processor | Google Tensor G2 | Snapdragon 778G+ |
| Main Lens | 50MP f/1.9 with OIS | 50MP f/1.9 with OIS |
| Ultra-wide Angle | 12MP f/2.2 with 114 FOV | 50MP f/2.2 with 114 FOV |
| Video Resolution | 4K up to 60 FPS, 1080p up to 240FPS | 4K 30FPS, 1080p 60FPS |
| Front Camera | 10.8MP f/2.2 | 16MP f/2.5 |
| Video Resolution | 4K and 1080p up to 60 FPS | 1080p 30FPS |
Rear Cameras Daytime Images
Main Camera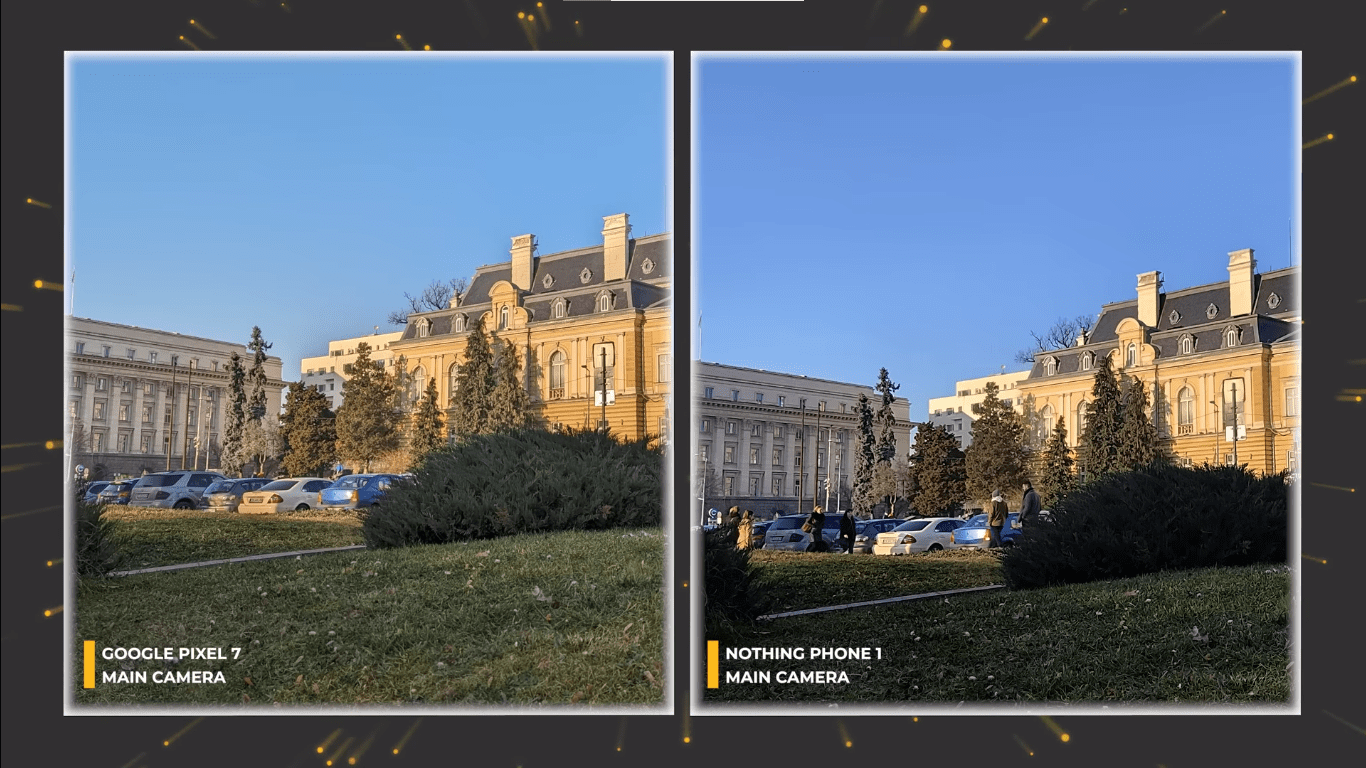 Let's test the primary camera in an almost ideal daytime scenario. There is a bit of street photography with a challenging dynamic range. So, let's see how these cameras react.
The image from the GN 1 sensor looks excellent. It has preserved a lot more detail when zoomed in. Nothing Phone 1 has also captured a beautiful picture. The colors are tremendous and dark areas look exceptional. Overall, both cell phones have delivered excellent results. The pictures are well exposed, and both phones have similar color science, with Nothing Phone 1 having a little more emphasis on vibrance.
Wind-Angle Camera
Let's move to a wide-angle lens; although both devices have a similar field of view but the picture of Nothing Phone 1 looks a little wider. It is sharp and has some details but seems a little grainy when zoomed in.
If we look at Google Pixel 7 there are a lot more details preserved, along with a better dynamic range. Moreover, if we look at the shadows, the objects are far more visible and distinguishable, which gives Pixel 7 a little edge over Nothing Phone 1.
Zoom-in Shots
None of the cameras have a telephoto lens, but they are able to capture decent zoom-in shots. Especially the amount of details preserved by the Google Pixel 7 is exceptional. At 8x software zoom, things are ok, but pictures at 5x zoom are good.
Portraits
Portraits are also good on both mobile phones. But I will give my point to Google Pixel 7; it actually looks like the picture has come out of a professional-grade camera. Moreover, the camera app on Google Pixel 7 can also turn ordinary photos into a portrait which also looks good.
Portraits are also good on Nothing Phone 1, but if we put them side by side, it does not look good enough. The artificial blur has made some mistakes, and if we zoom in, the sleeve border looks artificially sharp, as if someone has cropped the picture on a blurry background.
Macro Shots
Both smartphones do not have a macro lens, so we will use 2x software zoom to test macro shots. Pixel 7 losses focus quite often, and the picture also feels a little soft.
On the contrary, Nothing Phone 1 is visibly better. The picture is well-visible and has a lot more details visible.
Low-Light Imagery
The picture really shows that Google Pixel 7 is the inventor of night mode in smartphones. The image is far more detailed, and the camera delivers very consistent results. On the contrary, Nothing Phone 1 is also very good, but we have to put in a lot of effort as only 1 out of 5 samples was usable.
Google Pixel 7 has another round to its name.
Rear Cameras Videos
Main Lens
Videos are another stronghold of Google Pixel 7; the stability is fantastic. If we look closely at the video on our YouTube channel, the video has excellent details and better color. Just look at the line of sunlight on top of the buildings; it simply looks great.
Nothing Phone 1 video is dark, the colors seem a little faded, and the details are not enough. Moreover, despite OIS, the videos are not stabilized and struggle when we shoot while walking.
So, another clear victory for Google Pixel 7 because of its excellent video quality and stabilization. Moreover, it also supports 10-bit video recording.
Wide-Angle
Both cameras can shoot pretty good ultra-wide videos, but we can see the video on Pixel 7 is a little soft, while Nothing Phone 1 can shoot excellent 4K video with the ultra-wide camera, and they look better than the Pixel 7.
Front Camera
Pictures
Front camera pictures are a strength for both smartphones. The pictures are great; here are the portraits; both have lovely details and an excellent blurred background that looks pretty good.
Moreover, as we have seen with the back camera, nighttime selfies are far better on Google Pixel 7.
Videos
The results are pretty much the same in the video section as well. Google Pixel 7 can capture great day and nighttime videos.
Conclusion
Undoubtedly, the Google Pixel 7 is clearly a winner of the smartphone camera test. But it's important to note that it costs 200$ more than Nothing Phone 1. Both smartphones have mid-range image sensors, but if we look at the pictures, both smartphone cameras are far more capable and deliver exceptional results.
This was the complete comparison of both smartphone cameras in almost every category. You can learn more about the cameras and many image and video samples in our review video.